When will multichoice Nigeria stop? lol let's see the full story. The good news is MultiChoice DStv is introducing new packages for its DStv and GOtv platform.
From December 1, DStv customers will have more entertainment options to choose from with the introduction of three new DStv packages: DStv Confam, DStv Yanga and DStv Padi. GOtv subscribers will also get two new GOtv packages: GOtv Jolli and GOtv Jinja.
These new packages are exclusively and specially-curated for the Nigerian market and come upgraded with new channels, fresh content and Naija-centric names that contribute to a more enhanced viewing experience.
In addition, the GOtv Max package will be revamped to include more channels, thus offering more value at an affordable price.
The new packages come loaded with the recently-launched channels – Da Vinci, TNT Africa, and Real-Time – as well as other top local, sports, movies, and general entertainment channels.
To ensure that customers get a glimpse of the exciting entertainment lined up on these new packages, MultiChoice will give customers with active subscriptions on DStv Access, DStv Family, GOtv Plus and GOtv Value a two-week preview from Sunday, 1st December, till Sunday, 15th December 2019 at no extra cost!
Channels and New Package Price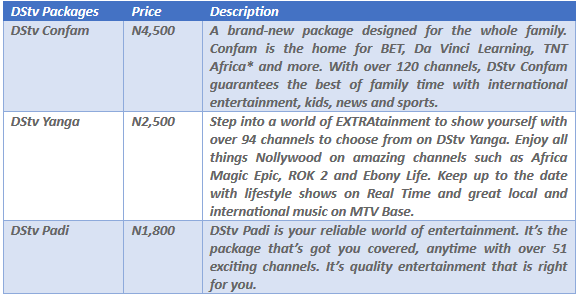 DStv Confam will be Priced at N4500 and has over 120 channels
DStv Yanga will be priced at N2500 and has over 94 channels
DStv Padi will be priced at N1800 with over 51 channels to choose from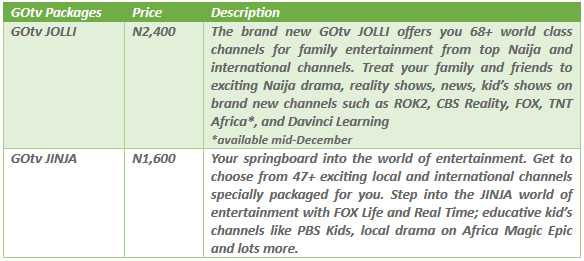 GOtv Jolly will be priced at N2400 with over 68+ world class channels
Gotv Jinja will be priced at N1600 with over 47+ channels
Chief Executive Officer, MultiChoice Nigeria, John Ugbe, speaking on this milestone, said the introduction of the new packages customized for Nigerians will unlock a new level of entertainment and value for customers, giving them improved choices and a brand new DStv and GOtv experience.
Faqontech and its contents are protected by COPYRIGHT LAW (DMCA) with high-priority response rate. Reproduction without permission or due credit link back will cause your article(s) to be removed from search engines and disappearance of Ads on that page if monetized with Adsense.
NOTE that Your Adverts can be placed here on Faqontech either Banner, Link or Text ADS We got you covered, We have different advert space waiting for you. Want to know more about our advert placement click HERE