In this article, we will explore how to enable and use Reader Mode in Chrome.
With the vast amount of information available online, it can be challenging to focus on reading articles without being distracted by ads, images, and other website elements.
This is where Reader Mode comes in, allowing users to declutter articles and make them easier to read.
Enabling and using Reader Mode in Chrome is a simple process that can significantly improve your browsing experience.
By eliminating distractions and clutter, Reader Mode can help you focus on the content that matters most.
How to enable Reader mode in Chrome
Step 1: Enabling Chrome Feature Flag To enable Reader Mode, we need to enable a Chrome feature flag first. Follow the steps below to do this:
Open the Chrome browser on your computer.
Type chrome://flags in the address bar and press Enter.
In the search box at the top, type "Reader Mode."
Look for the flag titled "Enable Reader Mode" and click on the dropdown menu next to it.
Select "Enabled" from the dropdown menu.
Click the "Relaunch" button at the bottom of the screen to apply the changes.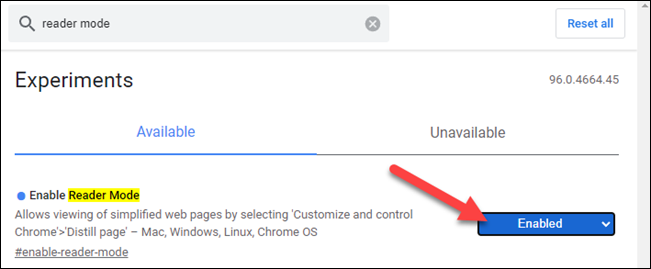 Step 2: Using Reader Mode After enabling the feature flag, Reader Mode is ready to use. Here's how to use it:
Visit a webpage that has a lot of text.
Look for the little book icon on the right side of the address bar. Click it to switch to Reader Mode.
Alternatively, click the menu button (three dots) and select "Enter Reader Mode" to activate it.
You'll now see a much simpler, less cluttered view of the webpage. Images still appear, but ads and some other items are removed.
To adjust the view, click the "A" icon in the top right. From here, you can change the font, text size, and background color to your liking.
That's it! You can now enjoy a more pleasant reading experience in Chrome.
Reader Mode is a useful feature that can improve your reading experience by removing distractions and presenting articles in a clean and easy-to-read format.
If you liked this article, then please subscribe to our YouTube Channel or Join our Telegram Channel to stay updated with latest updates from us faster; Telegram Channel or Join our Telegram Group.