Oraimo technologies have released another smartwatch titled "Oraimo Watch 2 Pro", we have seen the Oraimo Boompop, Freepods 3 and a lot more from Oraimo and here is another product we definitely can't take our eyes off.
In this review, you will learn all about the Oraimo watch 2 Pro and also if it's another apple clone or it's a unique design.
Earlier this year we got the Oraimo Watch Pro, and this time around we have the Oraimo Watch 2 Pro, which comes with a ton of new features like phone calls from the watch.
Now a newly redesigned app to interact with this, a bigger screen and a bigger battery too, and a lot of health tracking abilities.
Oraimo Watch 2 Pro Review
The Oraimo Watch 2 Pro is made of plastic and has a button on the side for assessing your home menu and power options. At the back, you have a heart rate sensor and a charging port.
Inside the box, you get a charging cable that snaps to the back with magnets. Also in the box, you get a set-up guide.
The wristband is made of silicone or rubber and is changeable. You can get third-party bands to try. It's IP-68 dust and waterproof, you can shower or go for a stream with it.
It seems to only come in black and I think that should fit with most outfits for the display. This comes with a 2.5 Tempered glass display at 1.75 inches. It is a TFT LCD display and it has a higher resolution of a 320 x 385.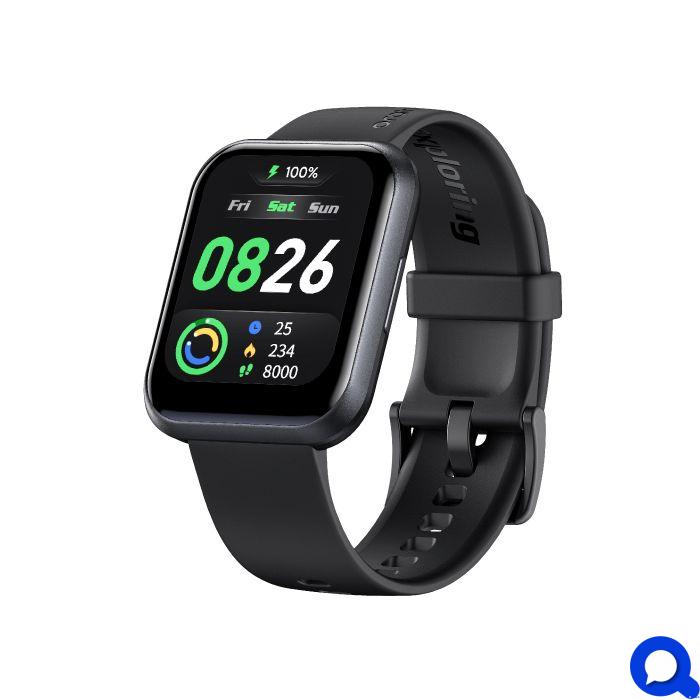 The screen has five brightness levels and I didn't have any issues using it outdoors. It has some amazing-looking colours too. You get a few watch faces already installed on the watch. To set more watch faces though, you need to download and install the brand new Oraimo Health app.
It's available on the Android and ios stores, which is to say that what compatible with both Android and iOS devices.
It has a beautiful design app with all information and data that you need. You get an activity exercise, heart rate and sleep monitoring data on the first tab, and a dedicated exercise page on the second tab for your outdoor run, cycling and walking.
Also from the app, you can check the over 100 plus watch faces to customize your watch. Interacting with the watch is very simple. To get a quick access tab, you drag from the top, make calls, increase the brightness of your display, do not Disturb mode a and lot more.
On the home screen, you can swipe to the left for your Widget, which is customizable in the settings, or swipe to the right for your activity tracking rings, hats and slip rates monitor too.
Also on the home screen, you can swipe up to display your messages available. From here, you can reply to messages with quick reply messages that you have set, which is also done in the settings. What this means is that you get to set some templates to reply to messages that you have received.
So for instance, if somebody texts you, how are you doing? You can just reply by saying I'm okay, but if I'm okay as part of your templates that you have set, then you can use that to reply. So make sure you go into the settings and customize your own set of templates.
Also by swiping up, you get to see all the notifications from all the applications that you have given access to from the device, which is one of the reasons why most people decide to get a smartwatch.
So you can get all your notifications on your watch without having to pick up your phone every time. The heart rate monitor is very accurate too. I get almost the same reading from using Apple Watch and the sleep monitor. One of the reasons why I like the watch, is the fact that the batteries are so good and I can go to bed with this without having to worry about charging my watch.
A bigger screen and a higher resolution display will definitely lead to more battery drainage but from my experience, I've been going days on a single charge and I haven't been worrying about the low battery at all.
Oraimo Watch 2 Pro Price
The Oraimo Watch 2 Pro Price in Nigeria is about ₦26,000 which is also available on Oriamo Nigeria official website if you wish to place an order. The device is also available in some stores around the country if you wish to buy from stores around you.
If you liked this article, then please subscribe to our YouTube Channel or Join our Telegram Channel to stay updated with latest updates from us faster; Telegram Channel or Join our Telegram Group.