The Oraimo Toast 10 PD has to be one of the cheapest power banks that Oraimo has launched. And, don't undermine the power of this beast just because it comes cheap. It might be cheap, but it packs a punch!
This Power bank supports 18W Fast Smart Charging and can charge the best smartphones to 50% in half an hour, which is impressive. Apart from the fact that it can charge this fast, it can also fully charge a smartphone three times consecutively.
The Oraimo Toast 10 PD just has 10,000MAh, but it definitely beats lots of its competition and is second only to the Oraimo Traveller 4 Pro which has a stunning 20,000MAh and can charge your Smartphone up to 60% in half an hour.
In this article, we'll be checking out all the features of the Oraimo Toast 10 PD Powerbank. We'll be doing a walkthrough of the unboxing experience, and we'll check out the accessories and then give a rating to the power bank according to the specs. Let's go!
How Much is the Oraimo Toast 10 PD in Nigeria and Ghana?
At the start of this article, I mentioned that the Oraimo Toast 10 PD Powerbank is very reasonably priced, and this means that it's very affordable to the average Nigerian or Ghanian. The Oraimo Toast PD costs roughly 8,500 Naira or 201 Ghana Cedis.
With the slight increase of pricing in retail stores, you should be able to get this power bank between 9,000 – 10,500 Naira or 212 – 250 Ghana Cedis.
What's in the Box?
Like all other Oraimo Products, the Oraimo Toast 10 PD is packaged in a portable rectangular box colored light green and black. I really like the way the box the Oraimo Toast 10 PD is kept in its compact box, and it has a really nice and neat look to it.
Next, you get a nylon covering on the portable box to keep it safe from scratches on the box, and this makes it look even neater and exquisite. After taking off the nylon covering, you open the top of the box and slide out another black-colored rectangular box that houses all the accessories and the Power bank itself.
The rectangular box is pretty simple, and it doesn't have a lot of compartments like that of the Oraimo Traveller 4 Pro. I think Oraimo decided to make this as basic as possible. After taking out the power bank, underneath it, you'll see the small charging cable and a manual.
And that's about it. That's all you'll get inside the box of the Oraimo Toast 10 PD Power bank. Now, let's get on with the features of the power bank itself as well as its accessories which are basically just the charger cable.
Oraimo Toast 10 PD Features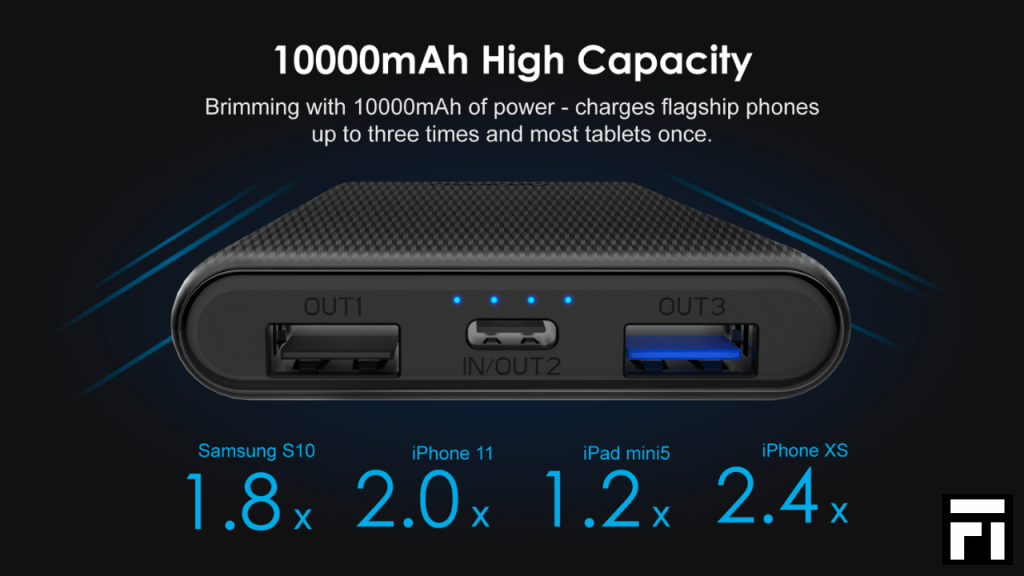 The first thing you'll notice about this power bank is that it's completely made of plastic, and it has rough dots all around it, which prevents the power bank from rolling downwards when you keep it on smooth surfaces. It kind of gives it a nice grip and feel.
Oraimo designed the Toast 10 PD to be light. And it is actually noticeable. I mean, carrying the Traveller 4 Pro was very heavy for me, and it was not very comfortable when I kept it in my pocket, but the Toast 10 PD defeats that. It's very light, and you can easily take it from one place to another without feeling any strain in your pockets.
The Power bank has four USB ports at the top of the plastic body. It has a USB-C port that is capable of 18W of fast charging, and a Micro-USB port that is used for charging the power bank itself, and we also have two output ports for fast charging of your devices.
On the right side of the Power bank, you also get a small power button, and above that, you get four LED battery indicators to tell you if your power bank is low, full, dead, or needs charging.
Wrapping Up!
From a personal perspective, I'll say with the pricing and features of the Oraimo Toast PD, it easily gets a 7 out of 10 rating from me.
Want to see more articles like this? Well, turn on notifications for this website using the notification bell at the bottom-right corner of your screen if you're using a laptop, and enable notifications using the notification bar at the top of your screen if you use an Android or iOS device.
If you have any questions relating to this article, make sure you drop them in the comment box below. And, if you have anything you think needs to be added to this article that'll make it more helpful to others, please indicate that in the comment section too. I'll make sure to add it to the article and give due credit. Thanks for reading.
If you liked this article, then please subscribe to our YouTube Channel or Join our Telegram Channel to stay updated with latest updates from us faster; Telegram Channel or Join our Telegram Group.