Making money online has to be one of the most convenient ways of making a lot of money in the world right now. I mean, you don't have to go through the hassle of commuting to a physical work every day or for those that aren't very social, forcibly have to relate with co-workers every single day or have to have fixed work hours that aren't in the least bit flexible.
Now, what if I told you that if you were a physical kind of worker or a stay-at-home kind of worker, you can get jobs on one platform and get paid for whatever you do, from menial jobs to shoemaking, plumbing, content writing, programming, graphics design, fashion design, makeup and much more… this platform got you!
The name of this platform is – ArtisanKonect.
What is ArtisanKonect?
ArtisanKonect is a platform that was launched in July 2021 and was built on two words. "Artisan" – refers to a handyman or someone who renders services to those who may need them and "Konect" denotes a connection between clients who need services and these "Artisans." I guess you can look at ArtisanKonect as an Escrow connection service.
In the sense that after connecting a buyer of a service and the individual who will render that service, it will also serve as the platform or a bridge on which the client will make payment to the artisan. This platform with only its basic vision has solved a lot of problems.
For one, it has solved the issue of clients not wanting to pay those who have rendered services for them and it also gives an Artisan the guarantee of getting paid for services they render without the fear of getting scammed.
Who built ArtisanKonect?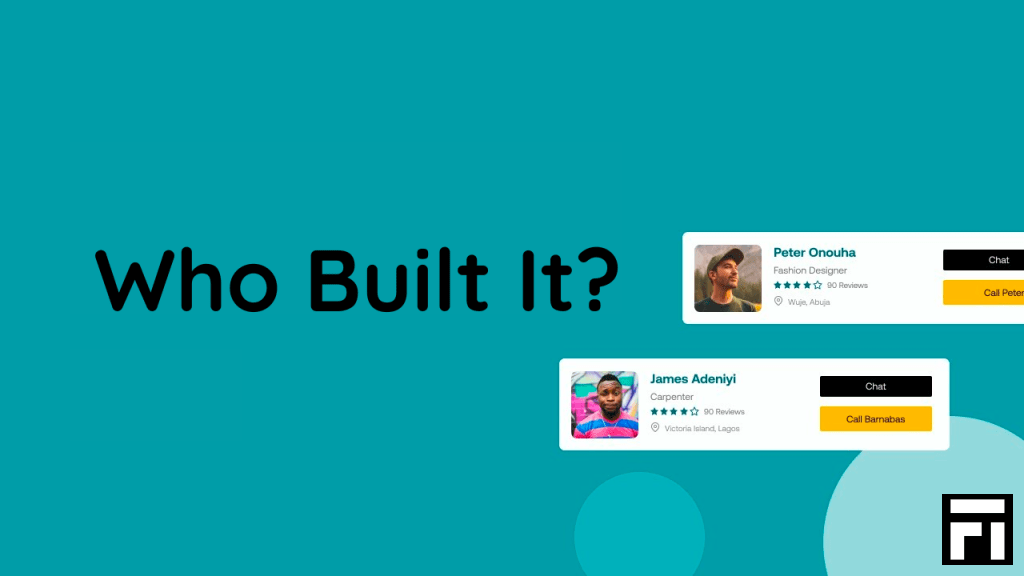 The Startup – ArtisanKonect, was a vision that was brought to life by three key individuals – Nwizuzu Francis Chukwuka, Barnabas Kolo, and Ayodeji Ayorinde. They are three individuals who perform different tasks but come together and with each one, professionals in their individual fields create something unique.
Nwizuzu Francis Chukwuka is a businessman and was one of the key factors that brought the platform from its foundation to where it is today.
Ayodeji Ayorinde is a UI/UX designer and a Professional Website developer and is responsible for the design of the ArtisanKonect platform to make it appealing to the eyes and also responsive.
Barnabas Kolo is a Software and Website developer, he worked on the back end of the platform and is what can be regarded as the brains behind the workings of the platform. He's the one who implements the features on the website and makes it usable for its audience.
Why should I use ArtisanKonect?
As I mentioned above, the platform is a very useful one in connecting those who need services to willing artisans who want to take up jobs. But, if this is still not enough reason for you to decide to join the platform, let's take a look at some of the reasons why you need ArtisanKonect as the next step in your business life:
Access to a wide range of skilled artisans: By using ArtisanKonect which connects artisans and clients, you'll have access to a broad range of skilled artisans from various fields. These artisans may have unique skills, experience, and styles that you may not be able to find otherwise.
Personalized and unique products: Artisans typically create personalized and unique products that are often one-of-a-kind. By working with an artisan, you can collaborate on a custom design that fits your specific needs and preferences.
Support small businesses: Many artisans are small business owners or independent contractors who rely on their craft to earn a living. By using a platform that connects artisans and clients, you can support small businesses and independent artists.
Sustainability: Artisans often use sustainable and eco-friendly materials and practices, which can be better for the environment. By choosing to work with artisans, you can contribute to a more sustainable economy and reduce your carbon footprint.
Community building: By working with artisans, you become part of a community of people who value creativity, craftsmanship, and personal connections. This can be an enriching and rewarding experience and can help you build relationships with like-minded individuals.
Overall, using ArtisanKonect which connects artisans and clients and can offer many benefits, including access to unique products, support for small businesses, and a more sustainable and connected economy.
How to Register as an Artisan on ArtisanKonect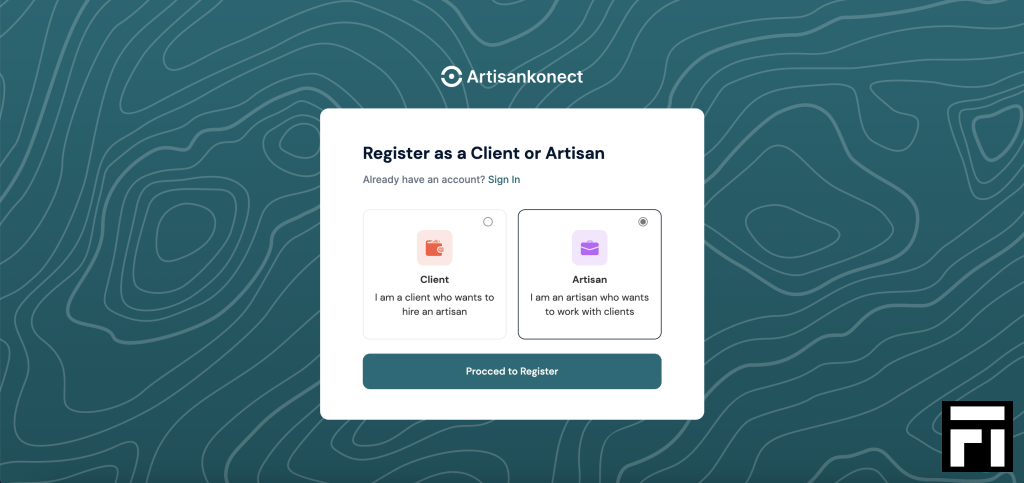 To register as an artisan (someone who renders services on the platform), follow the steps below:
Head on to the ArtisanKonect website
Tap on "Get Started" at the top-right corner of the homepage
Now, choose to create an account as an Artisan then tap on "Proceed to Register"
Fill in details like your Full name, Email address, Phone number, State, Local Government, Address, Category of Artisan you'd like to join, and others, and tap on "Sign Up"
After successfully creating an account as an artisan, make sure to verify your account. To do this;
Tap on "Account" in your dashboard
Tap on the "Upload KYC" option
You can verify your account using your Drivers license, National Identification Number (NIN), Voters card Number, or International Passport
Input your identification number and then tap on "Choose file" to upload a clear picture of your chosen document
Tap on "Update KYC" to submit this information. You should be verified in less than five (5) hours.
How to Register as a Client on ArtisanKonect
Head on to the ArtisanKonect website
Tap on "Get Started" at the top-right corner of the homepage
Now, choose to create an account as a Client then tap on "Proceed to Register"
Fill in details like your Full name, Email address, Phone number, State, Local Government, Address, and others, and tap on "Sign Up"
That's it! Your Client account has now been successfully created.
How to Add Your Bank Account on ArtisanKonect
Adding your bank account to ArtisanKonect is very easy and the whole process can be completed in just a matter of minutes. To do this:
On your dashboard, tap on "Withdraws"
Now, tap on "Add a Withdrawal Option"
Type in your Bank Account number, Account name, Select your bank account name, and then tap on "Add withdrawal option"
That's it! Your bank account has now been added to your ArtisanKonect account.
How to Fund Your ArtisanKonect account
To fund your ArtisanKonect account, follow the steps below:
Tap on "Wallet" on your dashboard
Input the amount you would like to deposit. Note that a small fee of 5% will be taken from your deposit amount
You will now be redirected to a secure payment service – PayStack where you will input your card details and the money will be withdrawn from your bank account into your ArtisanKonect account.
FaqonTech Recommended Video on How to Make Money Online in Nigeria with ArtisanKonect
Conclusion!
In conclusion, ArtisanKonect which connects artisans and clients is a game-changer in the artisanal industry. It has made it easier for clients to find unique and high-quality products while also providing a platform for artisans to showcase their skills and reach a wider audience. The platform is easy to use, and the process of ordering products is seamless.
ArtisanKonect has created a community that connects people who share a passion for quality, handcrafted products. It has also helped artisans to generate more income by providing them with a platform to sell their products It is the perfect example of how technology can be used to promote traditional crafts and create a more inclusive society.
If you liked this article, then please subscribe to our YouTube Channel or Join our Telegram Channel to stay updated with latest updates from us faster; Telegram Channel or Join our Telegram Group.