This Glo Unlimited Free Internet came when it's needed most, amidst the lockdown due to the global Conoravirus pandemic, however, you must meet some requirements before you can enjoy this latest Glo Unlimited Free Browsing Cheat, we will lay them down on this post so that you will understand every part of it
Requirements For Latest Glo Unlimited Free Browsing Cheat 2020
Follow the instructions below to get going with the Latest Glo Unlimited Free browsing Cheat 2020 Via Http Injector
~ Get your Glo(3G/4G) Nigeria sim card on your android smartphone
~ Make Sure you are on the Glo NEW Yakata plan to check your plan dial #100#
Note that you can't migrate to the Glo new Yakata plan as it comes by default on new sim cards so you will need a new Glo sim card if you change from the plan and not on the plan already
~ Now Recharge your line with N200, Glo will give you free 200MB as shown below
Http Injector Settings For Latest Glo Unlimited Free Browsing Cheat 2020
~ There is nothing much to set simple follow the instruction below
~ Download Http Injector from the links Above
~ Download the Latest Glo Unlimited Free browsing Http Injector Configure files from the links below
We have added new configure files valid till 03/05/2020
~ Note: update your http injector to the latest version to be able to use these Latest Glo Unlimited free browsing http injector ehi configure
~Download updated Http injector ehi configure file 1(Germany Server) for latest Glo Unlimited free browsing From Here
~Download updated Http injector ehi configure file 2(USA Server) for latest Glo Unlimited free browsing From Here
~Download updated Http injector ehi configure file 3(Netherlands Server) for latest Glo Unlimited free browsing From Here
~Download updated Http injector ehi configure file 4(France Server) for latest Glo Unlimited free browsing From Here
~ Launch your Http Injector
~ Click on a folder like a box, near the gear icon,
~ click on import configure and Search for your Download Location where you saved the configure file and Import any of them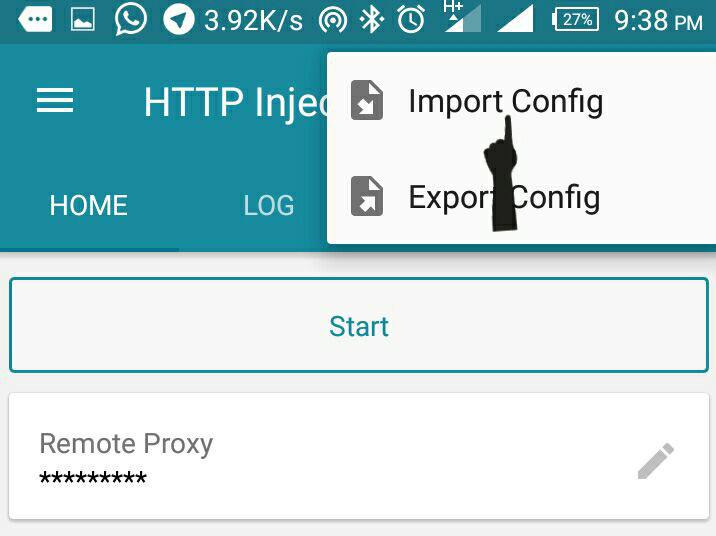 Now click on Start and Enjoy
Note that once your http injector is connected you can browse and download unlimitedly without touching the free 200mb data, if even the data is touched it wouldn't exceed 5MB as far as you are Connected to http injector
Also when the free 200mb data expires you will need to recharge another 200NGN to get another free 200mb to continue your Glo unlimited browsing.
Faqontech and its contents are protected by COPYRIGHT LAW (DMCA) with high-priority response rate. Reproduction without permission or due credit link back will cause your article(s) to be removed from search engines and disappearance of Ads on that page if monetized with Adsense.
NOTE that Your Adverts can be placed here on Faqontech either Banner, Link or Text ADS We got you covered, We have different advert space waiting for you. Want to know more about our advert placement click HERE