What are Non-Fungible Tokens? You must've had this question lingering at the back of your mind if you're a Crypto enthusiast or someone who follows the Cryptocurrency world. Even if you're not into Cryptocurrency, Non-Fungible Tokens (NFTs) are something you would've come across on the Internet at some point.
Now, the word "Non-Fungible" means something that can't be replicated or replaced with another thing. But, this is just the English definition. Now, I will explain what Non-Fungible Tokens (NFTs) are when related to the Cryptocurrency space.
NFTs and the Cryptocurrency Space
Non-Fungible Tokens (NFTs) are a special unit of data kept on the Blockchain. They are associated with reproducible items like Audio, Videos, Photos, and also some digital files with the use of this Blockchain Technology to give such Non-Fungible Tokens (NFTs) a publicized proof of ownership.
The copies of the original file are not capped to the owner of the NFT; they can still be shared and copied like any other file. The lack of fungibility makes NFTs stand out from Cryptocurrencies on the Blockchain like Bitcoin.
The very first Non-Fungible Token was created on the Ethereum Blockchain in the year, 2015. Since then, it has become a very important part of the Western artistic industry. Since its creation, it has had a lot of criticism due to the cost of energy used for its blockchain transactions and its use in some art scams.
By now, you should understand the basics of Non-Fungible Tokens (NFT)s, and we'll now be moving to a simple step-by-step guide on creating these NFTs by yourself.
How to Make Money with NFTs – Recommended Videos!
How to create Non-Fungible Tokens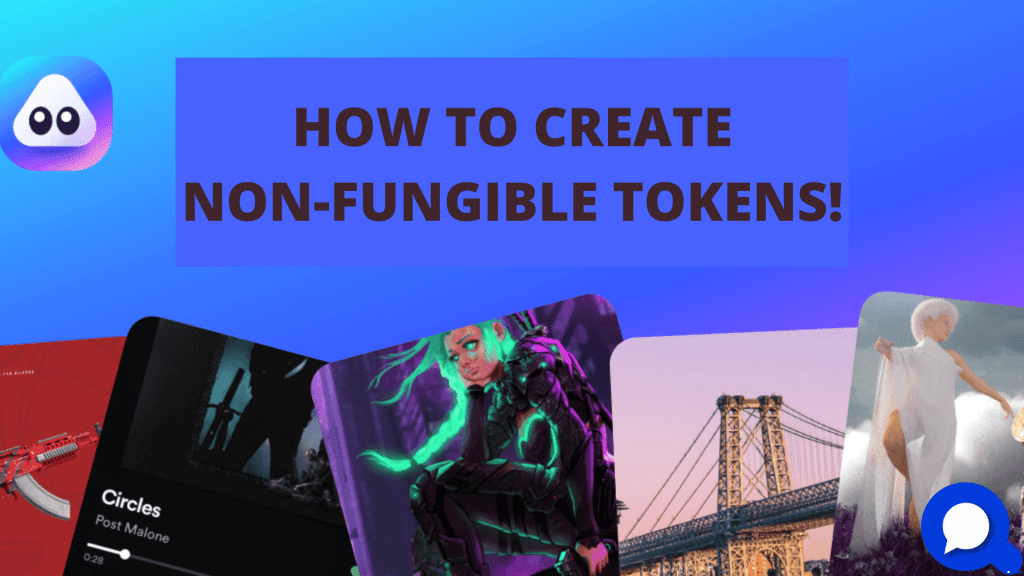 Creating Non-Fungible Tokens (NFTs) is called "Minting an NFT" in the Cryptocurrency space. Check out some of the most popularly used Cryptocurrency slang HERE. It's a fancy way of "Creating something on the Blockchain." In this simple step-by-step guide, I'll dwell more on the Ethereum Blockchain and OpenSea – The most widely-used Non-Fungible Token marketplace.
Purchasing and selling Non-Fungible Tokens (NFTs) are mostly done on the Ethereum Blockchain, and it's the best option for both NFT creators and artists who want to sell their art as NFTs. But, it isn't the only option. Some others are:
Polkadot ($DOT)
Texos ($XTZ)
Binance Smart Chain (BEP20/BSC)
Cosmos (COS)
Now, without wasting any more time, let's get on with the steps on how you can mint your Non-Fungible tokens.
Step 1: Get your Cryptocurrency Exchange Account
The first thing you need to do before you can begin creating your Non-Fungible token is to create an account with a Cryptocurrency exchange platform. In this article, I'm recommending BINANCE. You can create an account with Binance HERE. Binance is a Cryptocurrency exchange where you can easily purchase and sell Cryptocurrency. You'll need this to pay a one-time fee for minting your Non-Fungible Tokens (NFTs), and you'll have to pay with Ethereum.
Step 2: Purchase Ethereum
Lime I mentioned before, most Non-Fungible tokens (NFTs) are created on the Ethereum Network. So, when purchasing and selling NFTs, you're very likely to use Ethereum. So, you'll have to use your Binance account to purchase the Ethereum needed for this.
Step 3: Get your Digital Wallet
Next, you'll have to get your digital wallet, and since the Standard token Ethereum uses for minting NFTs is ERC-721, you'll need a digital wallet with support for ERC-721. Some of the popular options you should consider are Metamask (A Browser Plugin) which works at full capacity on Brave Browser and Google Chrome, and also TrustWallet.
Step 4: Transfer Ethereum into your Cryptocurrency Wallet
Since you've created a Cryptocurrency wallet, as mentioned in Step one above, and you've already purchased some Ethereum with your wallet, what you need to do now is send some Ethereum from your Cryptocurrency wallet to the digital wallet you created in step three above.
Step 5: Choose a MarketPlace
Now, you need to choose a marketplace where you will sell your Non-Fungible tokens. There are several options available such as:
Rarible
OpenSea (Recommended)
Foundation
SupreRare
After choosing a marketplace where you're going to sell your NFTs, you're now halfway done with the process. Let's Go!
Step 6: Create an OpenSea account using your Cryptocurrency Wallet
OpenSea has a "Create" button. After clicking on this button, you'll be asked to now link your Ethereum wallet. This requires a digital signature, and you won't be charged for that. After connecting your Ethereum wallet to OpenSea, the next thing you need to do is to create a Non-Fungible Token collection.
To link OpenSea to Metamask;
Click on the "Fox Logo" in your Browser
Input your password to gain access to Metamask
Head on to OpenSea (Make sure to use the very same Browser with which you installed your Metamask)
On the website, click on "Profile."
Now, you'll be asked to link your Cryptocurrency wallet, so you need to choose your wallet.
OpenSea should ask you to agree to their terms and conditions on Metamask. This is how you'll know that your Cryptocurrency wallet was successfully linked with Metamask! You'll now need to input a username and Email address to verify the account. Now, it's time to mint your very own NFT.
Step 7: Create Your Non-Fungible Token
Click on "Create" in Open Sea
Or, to create a collection of NFTs, click on "My Collections."
Upload any supported file from your device as an NFT
Name your NFT and then;
Click "Create."
Conclusion
Well, that's all you need to know about minting your own NFT'. That was easy, wasn't it? And better yet, you've gained new knowledge. Did you enjoy reading our article (Non-Fungible Tokens (NFTs) – An Easy Beginners Guide 2021)?
Well, we certainly hope you did. If you didn't, you could drop your comments on how we can improve our services on our website using the comment section below. If you missed any of the steps or have problems with them, you can also drop them in the comment section below. Thanks for reading!
If you liked this article, then please subscribe to our YouTube Channel or Join our Telegram Channel to stay updated with latest updates from us faster; Telegram Channel or Join our Telegram Group.