As a Creator, a buyer, or an NFT Enthusiast, one of the most important things you'll need to know about the NFT Space is where to sell and purchase Non-Fungible Tokens. Lucky for you, you've stumbled on the right article. In this article, we'll be highlighting the best NFT marketplaces for you! We'll also go a step further to highlight each marketplace's strong points and weak points.
NFTs have existed for a decade now, their roots tracing as far back as 2012. That year, Mani Rosenfield published a paper that suggested a 'Coloured Coins' proposal for the Bitcoin blockchain, which became the push needed to actualize the concept of NFTs.
Since 2012, NFTs have only gotten more popular, and in 2021, NFTs exploded! Suddenly, everyone wanted to get involved in the world of NFTs. Celebrities, companies, and the masses all wanted a taste of NFTs, and this only made it more popular, pushing its popularity off the roof in early 2022.
But, the inflation of NFTs and the recent Cryptocurrency crash lead to its ultimate downfall in the latter parts of 2022. But, analysts still believe that this shift from the focus of NFTs will result in them having better applications which will result in its bounce back.
There are numerous NFT marketplaces, many of which have specific uses. What factors should you consider before picking which one to use and which are the best NFT marketplaces available? Here's what you should know.
7. Foundation
If you have to purchase Non-Fungible Tokens, especially if you're a beginner, then Foundation should be your go-to platform. This platform has a very simple design, and this allows you to feel more in control as well as gives you easier navigation of the platform to allow you to purchase NFTs very quickly without needing any special technical know-how.
Sales of NFTs on the Foundation platform are made using Ethereum (ETH), and they have recorded a whopping $100 Million in NFT Sales since the inception of the platform. The platform will charge creators 15% on each transaction.
Why did we rate Foundation Two (2) stars out of Five (5)? Well, firstly, its service charge of 15% is actually outrageous, and it's the highest on our list. If you're a creator that's into NFTs for the profit you get from your art. Then Foundation will definitely make you rethink your decision to use their platform.
Also, the platform doesn't have a lot of features that other platforms on this list can boast of, and that's why it's last on our list of the best NFT marketplaces. I mean, wait till you see all the features that come with using the top platform on this list.
6. Rarible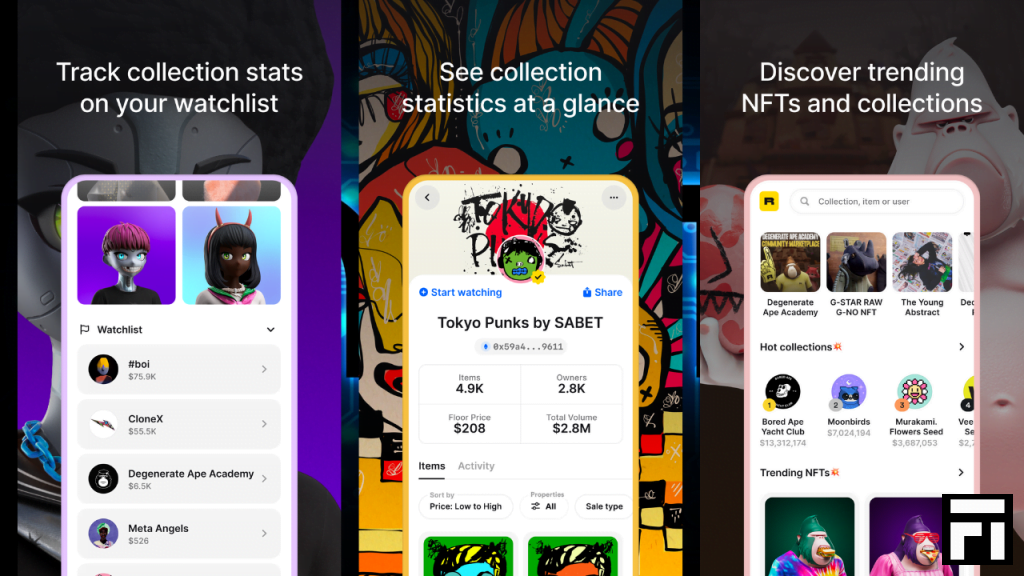 Rarible should be a household name at this point if you're very conversant with NFTs. This platform is one that's used by professionals and beginners alike in the world of NFTs. All kinds of collectibles, art, music, and videos can be sold, bought, and even created on the Rarible platform.
Rarible was created on the Ethereum Blockchain, like lots of other NFT Marketplaces out there, and on our best NFT marketplaces list. The platform charges a 2.5% fee to its sellers and buyers, which is still high but significantly lower than the first marketplace on this list.
Rarible supports many blockchains and can also host NFTs developed on Ethereum, Tezos, and Flow, which is one of its strong points.
One of the best features of Rarible is that customers may purchase NFTs using their debit or credit cards. Almost 200 countries are covered, making it simple to acquire NFTs from the platform all over the world, making Rarible one of the best NFT marketplaces.
Lastly, Rarible accepts a variety of wallets, including Coinbase and MetaMask, guaranteeing that investors may safely keep their assets after purchase.
5. Bakeryswap
BakerySwap is the fifth best NFT marketplace on our list, and it is a Binance Smart Chain (BSC) decentralized exchange (DEX) and automated market maker (AMM), which means they enable permissionless and automated trading of digital assets by utilizing liquidity pools instead of a traditional market of sellers and buyers.
It makes use of a native BakerySwap token (BAKE). It is a multi-functional cryptocurrency hub that provides a variety of Defi services and is also a crypto launchpad and non-fungible token (NFT) marketplace.
Its NFT platform offers meme competitions, digital art, and NFT in games for which users may buy using BAKE tokens. NFTs may be used in 'combo meals' to get extra BAKE tokens. Furthermore, selling and minting your own artwork is very easy to do while using BakerySwap.
4. Binance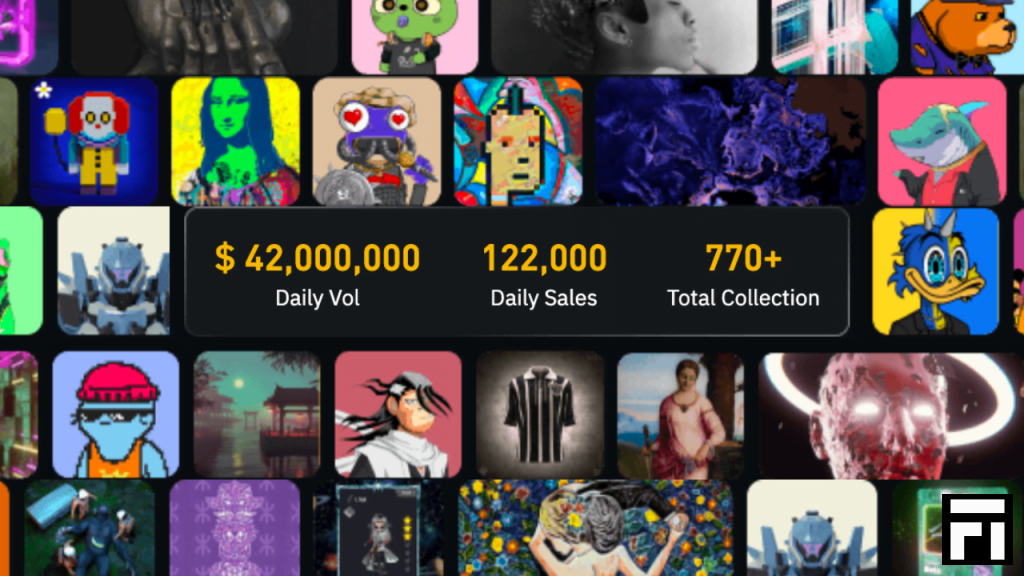 The best feature of Binance's NFT Marketplace, and what made it our fourth-best NFT Marketplace on this list, is its low fees.
Binance's NFT platform connects NFT artists and crypto fans to buy and sell NFTs on one platform. The platform offers three product lines:
• Marketplace: Sell, mint, bid on, and buy NFTs from across the world.
• Events: Purchase premium and unique NFTs designed by top worldwide artists as well as the most prominent names and companies.
• Mystery Boxes: Get a chance to win very rare NFTs on the Binance NFT Marketplace.
When purchasing NFTs on the Binance NFT Marketplace, you are charged a very low 1% transaction fee, and as mentioned above, this is the defining feature of this marketplace. Why this marketplace is rated only 3.5 Stars out of five (5) on our list of the best NFT marketplaces is owing to the fact that NFTs on the Binance NFT Marketplace can only be purchased using cryptocurrency, and there's no support for Credit or Debit cards yet.
3. Larva Labs/CryptoPunk
Larva Labs is primarily known for the CryptoPunks NFT, which went viral, which is reason enough for it to make the top 3 on our list of the best NFT marketplaces. They were first distributed for free in 2017. However, some CryptoPunks have subsequently sold for millions. Larva Labs is also working on additional digital art projects.
The CryptoPunks NFTs from Larva Labs are sold out. However, they can be bid on and purchased on several third-party markets. Nonetheless, Larva Labs' numerous initiatives are worth following.
2. Axie Infinity Marketplace
This NFT Marketplace needs no introduction! Since its creation in 2018, it has become one of the best NFT marketplaces for NFT Beginners, professionals, and most gamers.
Axie Marketplace is the online store for Axie Infinity, a video game. Axies are mythical animals that may be purchased, trained, and then challenged against the Axies of other players to receive prizes. Axie Marketplace allows users to purchase new Axies, and also entire territories and other goods, as NFTs for usage in-game.
Axie Infinity is, without question, the most popular NFT game in the world, and that has contributed immensely to the success of the Axie Infinity Marketplace.
You purchase NFTs on the Axie Infinity marketplace using Ethereum (ETH) from your Ronin wallet, which is very similar to Metamask but was adopted by the Axie Infinity marketplace as their own wallet extension.
1. OpenSea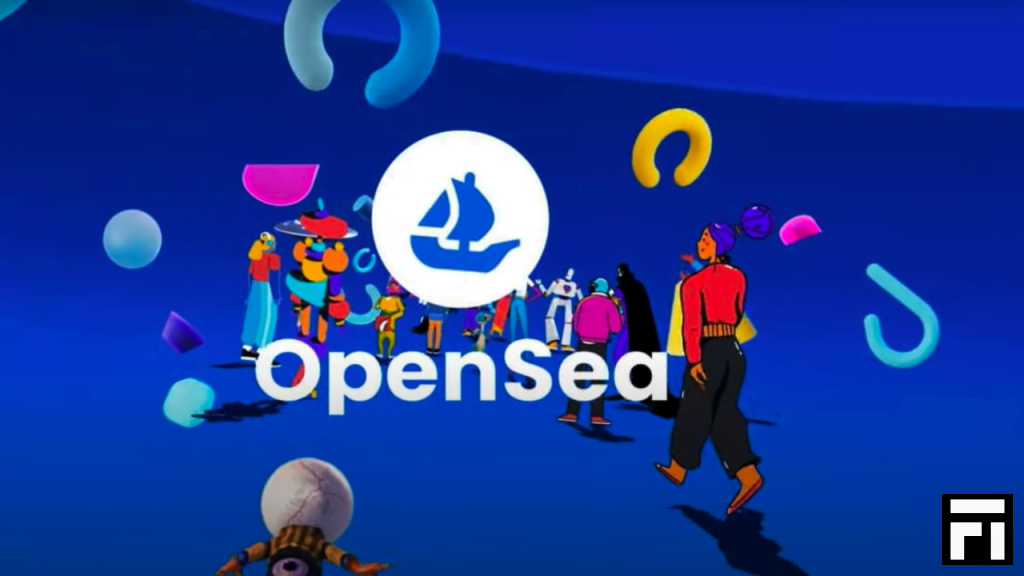 The Best NFT Marketplace on our list is OpenSea. And, seriously? are you even surprised?
OpenSea became the first platform to start mainstream NFT trading, with over one million active users since its inception. The OpenSea marketplace is built on the Ethereum blockchain, like many other marketplaces on this list, and provides a variety of NFTs, including domain names, art, collectibles, in-game objects like the Axie Infinity Marketplace, and more.
As a payment option, the site accepts over 150 cryptocurrencies which are its defining feature. This allows investors to easily buy and sell NFTs with their cryptocurrency holdings. OpenSea charges sellers a 2.5% transaction fee whenever their product sells, with no costs incurred by buyers.
Instead of just the Ronin wallet extension supported by the Axie Infinity Marketplace, OpenSea supports Metamask, Coinbase wallet, WalletConnect, Phantom (Solana), Glow (Solana), Fortmatic, Kaikas, and much more.
If you liked this article, then please subscribe to our YouTube Channel or Join our Telegram Channel to stay updated with latest updates from us faster; Telegram Channel or Join our Telegram Group.