Here's everything you need to know about the phone in this Tecno Phantom V Fold review. The Tecno Phantom V Fold was launched in Nigeria and is sold for around 890,000 Naira.
Compared to other foldable phones, the TECNO PHANTOM V Fold is a good deal. It's much cheaper but still does a great job, like having a tablet. It even comes with a charger and a case, which is nice.
Tecno Phantom V Fold Review
Here's the Tecno Phantom V fold review;
Design and Display
The PHANTOM V Fold has a big 7.8-inch screen that can bend, making it great for watching stuff and doing multiple things at once. One cool thing about this phone is that it has a regular-shaped screen, so using it is super smooth.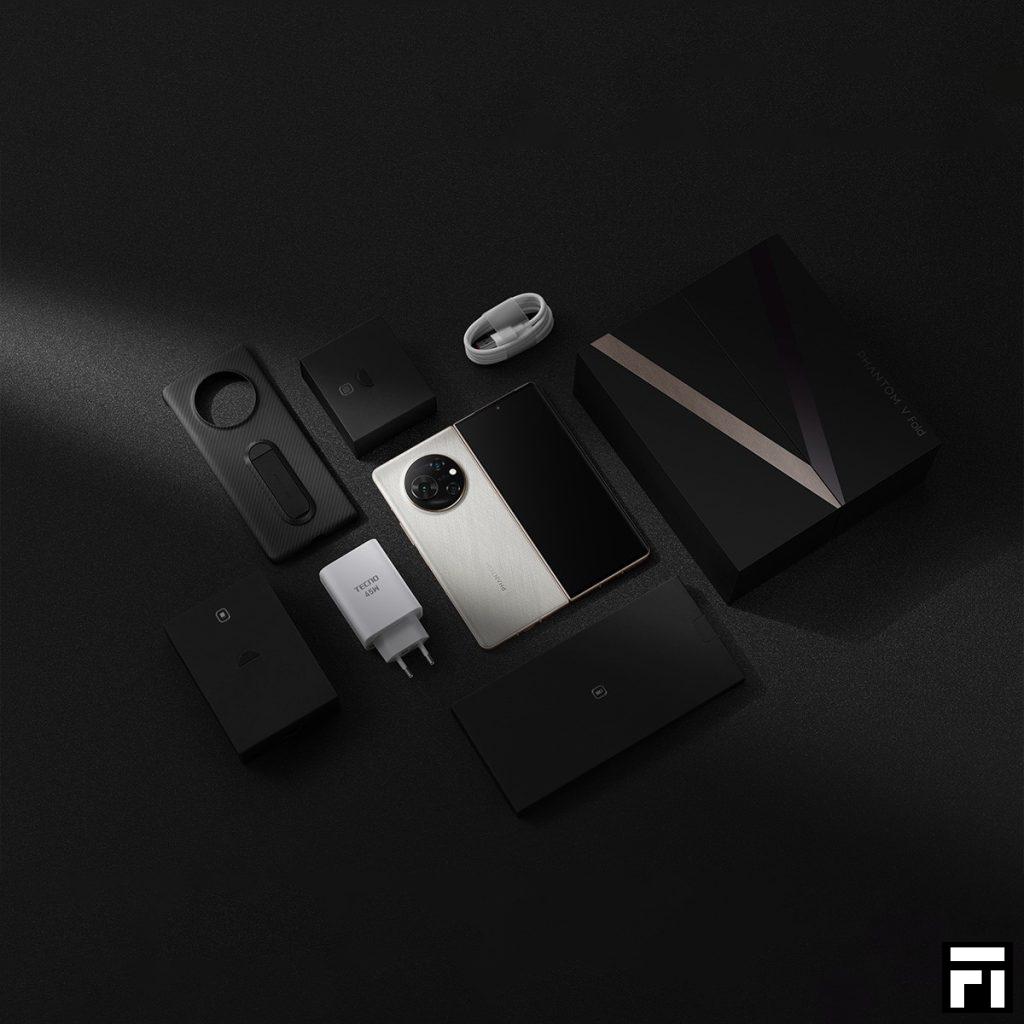 The TECNO Phantom V Fold is not too heavy because it's made mostly of plastic, but it does have a strong metal frame.
Unlike some other foldable phones, this one makes sure that normal apps look good and not weird on the outside screen. You can barely see the fold line on the screen, and the phone feels really well-made.
Software
The TECNO Phantom V Fold comes with a special software called Hi OS Fold 13, which is based on Android 13. It's interesting to note that it's similar to the software used in the Honor Magic Vs.
Instead of a taskbar at the bottom of the screen, TECNO has a side panel that you open by swiping from the edge. This can be a bit tricky at first because it sometimes gets in the way of going back in apps until you get used to it.
When you open apps from this panel, they appear as small windows that float on the screen. If you're using the main screen, you can also split the screen into two parts by swiping from the top and picking another app from a list.
Personally, I'd prefer to see the regular taskbar like the one introduced in Android 12L, just to keep things the same across all Android devices.
Camera and Fun Stuff
The camera on the TECNO PHANTOM V Fold is pretty cool. It takes awesome pictures with lots of detail, even in different lighting. You can even make 4K videos that look really clear. The front camera is great for selfies too, making you look your best. Plus, the phone has lots of storage, so you can keep lots of movies, music, and photos.
The camera on the back sticks out a bit, which might make it vulnerable to scratches if the phone is dropped. The good news is that the company gives you a free case with the phone, unlike Samsung. So, that should help protect it.
Is It Strong and Will It Get Updates?
This foldable phone can handle being folded and unfolded a lot. They say it can do it at least 200,000 times! And if something happens to the outside screen, they'll fix it for a year. TECNO will also keep updating the software for at least three years, so it'll keep getting better.
Battery That Lasts
One problem with many phones is they run out of battery fast. But not the TECNO PHANTOM V Fold! It has a big battery that lasts a really long time. And if you need to charge it, it can go from 0 to 70% in just 30 minutes.
The TECNO Phantom V Fold has a big 5,000mAh battery inside, which is like a powerhouse for your phone. It can charge really fast, up to 45W. That's way faster than what Samsung offers with its Galaxy X Fold 4.
If you liked this article, then please subscribe to our YouTube Channel or Join our Telegram Channel to stay updated with latest updates from us faster; Telegram Channel or Join our Telegram Group.