WhatsApp recently introduced "filter unread chats on WhatsApp" and not everyone is familiar with this feature yet or aware it exists on the App now.
Well this article will help you learn how to filter unread chats on WhatsApp for Android and IOS (iPhone, iPad)
The functionality will enable WhatsApp users to narrow down their long list of open chats by displaying only the ones with unread messages that need to be addressed.
I stumbled on this feature on my iPhone before I found a method that works on my Android device and this has helped me a lot.
Recently, the messaging software updated the Desktop beta program for Windows and macOS to filter unread chats for users.
We tend to pin important chats at the top of our chats to help us get notified when a new message comes in from the person or group.
But this feature works on both personal chats and group chats.
How to Filter Unread Chats on WhatsApp on Android
This method works for both WhatsApp and WhatsApp business;
Open WhatsApp on your Android Phone.
At the bottom, click the Chats tab.
To access the Search bar, swipe down from the top of the screen.
To the right of the search bar, click or tap on the search icon close to the three-dot menu icon.
Once you tap on the search icon, you should see things you can filter your chats with like filter with Photos, Filter with documents, filter with contact, and filter with non-contact.
You should notice the filter by unread chat.
Now you should see unread chats only.
That's it.
If you want to bring back your chats, tap on the "unread filter" again and you should see all your chats again.
How to Filter Unread Chats on WhatsApp on IOS
This method works on both Whatsapp for iPhone and WhatsApp business for iPhone;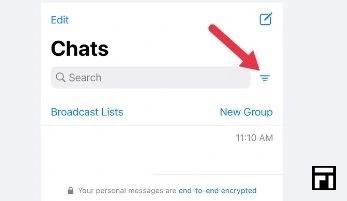 Open WhatsApp on iPhone.
Make sure you are at the top of your chat.
Close to the iPhone WhatsApp search box you should see an icon close to the chat.
The icon in the chat is called "filter unread chats".
Once you click on the icon, your chat should filter instantly.
That's it.
One tap on the "filter" option will bring back all of your chats if you want to remove the filter.
Thanks to WhatsApp for introducing this feature, it helps save time and reply to chats that were left out. If you enjoyed reading this article, kindly share it with others using the share button below. Leave a comment below, if you still find it hard to filter unread chats on WhatsApp.
If you liked this article, then please subscribe to our YouTube Channel or Join our Telegram Channel to stay updated with latest updates from us faster; Telegram Channel or Join our Telegram Group.