Hello World. Today I'll be writing on "How To Tweak a Smartphone Device IMEI Easily". I'm sure you've heard a lot about IMEI which is short for International Mobile Equipment Identity tweaking and you wish to try it out yourself due to the benefits you get from tweaking your IMEI from your original device IMEI to that of other devices and get bonuses instantly on your smartphone. IMEI tweaking if used successfully can be used to get free MTN, GLOBACOM, 9MOBILE, ETISALAT and more free browsing or free data bonuses.
Before we get into the steps leading to tweaking your device's IMEI number, let's see a little bit of what IMEI is all about and why it's so important to all smartphones.
What is IMEI and Why is it so unique?
Well, as I said earlier, IMEI stands for International Mobile Equipment Identity and from the name it's obvious that IMEI is very important for every smartphone for the identity in the name shows that the IMEI number is what makes a smartphone different from all other smartphones. It gives a smartphone a unique identity that's totally different from all other smartphones. The IMEI number is also given to some communication devices like Modems and Mi-Fi devices. That shows that it's not only for smartphone devices.
The IMEI of every device is unique because it can be used to:
Track a particular device's location: This option is very creepy and also very useful. Because, if your device is missing or stolen you can meet some designated authorities that can help you to track your smartphone easily using your IMEI number to track the device to it's exact location on the map without wasting a lot of time. This option can also not be good for you if you're being tracked without your permission using your IMEI number
To find out a device type: On some websites on the internet, you can actually use your IMEI number to check the kind of device you're using maybe it's original because your IMEI number should be able to make a perfect match with what you're seeing on such websites
Checking phone warranty: The IMEI number of a smartphone device could be used to check the duration of the warranty of a device from its producer
To unlock your device: When, your smartphone is locked by another individual, or you simply forgot the password of your device. you can easily unlock your device using your device's IMEI. I'll be writing on the steps you can use to do this in another article. Stay tuned to our website and subscribe to our newsletter and notifications to know when the article will be available
Blacklist a device from it's network: In case of a missing device, the network provider of your area can be prompted to blacklist your device as long as you have sufficient proof that it's yours.
Okay. How was that? Really insightful right? I'm sure you quite understand what IMEI is almost all about now and why it's so important to any device. Now, I would like to introduce you to IMEI tweaking.
What is IMEI Tweaking?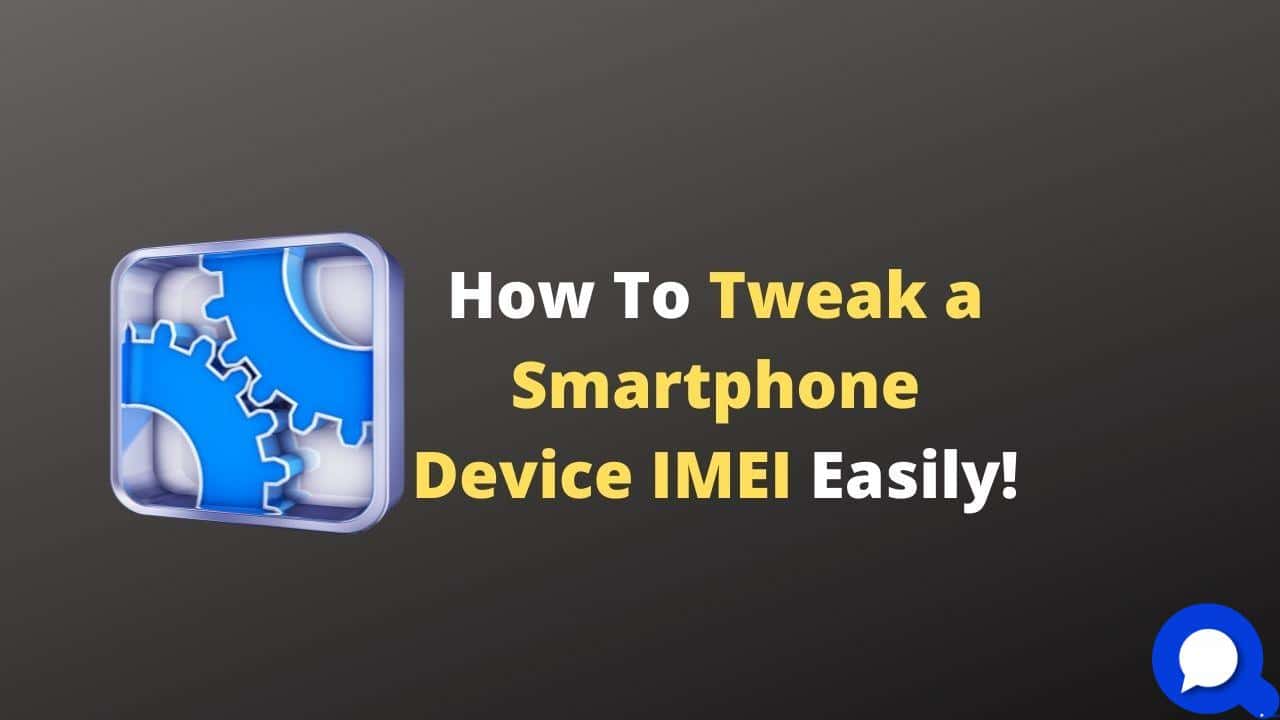 Tweaking the IMEI of your smartphone device or simply IMEI tweaking is a process you undergo to change the IMEI of your smartphone device. Tweaking is just a term adopted by techy individuals to give the process a more geeky nature. IMEI tweaking is mostly used to change the unique number of your device to that of another device either for fun or mostly to get a particular bonus that your own device is not eligible for.
To tweak your IMEI you have to be undoubtedly sure that your smartphone device is an MediaTek (MTK) smartphone. If it's not. Then, I'm afraid you won't be able to tweak your IMEI at all. Well, this bring us to the requirements your phone needs to have before it can be tweaked. Check the list below:
A MediaTek (MTK) smartphone e.g. Tecno, Infinix, Itel, Lenovo and others
Your original device IMEI – Make sure this is written down before you tweak your device. You can check your original IMEI number by typing *#06# on your smartphone
IMEI changer applications which are: MTK engineering tool and IMEI analyzer app
Your smartphone should be between android version 3 and 7 – It works better with these android version ranges
Your smartphone does NOT need to be rooted.
Wow. we've really gone far on the topic "How To Tweak a Smartphone Device IMEI Easily". It's worth the wait because we're heading to the final phase where I'll be sharing the steps on how to tweak a Smartphone device IMEI easily without stress.
Steps on How To Tweak a Smartphone Device IMEI Easily (Phase 1)
Download the tweaking applications provided above
Install the applications
Switch off any antivirus programs you may have installed on your smartphone
Open the IMEI analyzer application first
Get the identifying number of the smartphone you wish to change your device IMEI to. We're going to be using an INFINIX IMEI identifying number as an example. "358429063" which is the first nine digits of the INFINIX IMEI number are the legitimate numbers the rest can be tweaked but do not change these first nine digits provided
You can now randomly add any 5 numbers to the one provided above. So we have 14 digits now. "35842906325890" but it's still missing one more number
This last number is called the "check digit" so it cannot be randomly added and this is where you need your IMEI analyzer application
Input the 14 numbers we have generated into the box provided. And click the analyze button
Your analyzer should have given you the check digit now. Add it to your 14 generated numbers making it 15. Copy the complete 15 digit number.
Now, we're done with using the IMEI analyzer. It's time we get on with MTK Engineering tool.
Steps on How To Tweak a Smartphone Device IMEI Easily (Phase 2)
Open the MTK Engineering tool
Click on MTK settings
Swipe to the left or click on CONNECTIVITY to see more options
Select the CDS Information option
Click on Radio information
Note: If there's no RADIO INFORMATION option available. It means that you have an Android version that is way too high. I've recommended lower Android versions in my article above.
Select Phone 1 if you want to change the IMEI for your first sim card or Phone 2 for the second sim card
You should see AT+ . Add the letter E to it. Making it AT+E
Click on AT+EMGR=1,7.""
Add your IMEI like this: AT+EMGR=1,7."358429063258901″
Then, put a space between AT and EMGR so that it looks like this: AT+ EMGR=1,7."358429063258901″
Press send AT command
A message should now pop up saying "AT command is msent".
Now, this is the part where you put your device on Airplane mode for 20 seconds and toggle it ON. By now, your IMEI should have changed to your generated IMEI. You can check by using *#06# on your smartphone dialer.
If you missed any of the steps or, you're having problems you can also drop it in our comment section below. If you didn't have any problems with our article, you can drop your comments on how we can improve our services on FaqonTech below. Thanks for reading.
Faqontech and its contents are protected by COPYRIGHT LAW (DMCA) with high-priority response rate. Reproduction without permission or due credit link back will cause your article(s) to be removed from search engines and disappearance of Ads on that page if monetized with Adsense.
NOTE that Your Adverts can be placed here on Faqontech either Banner, Link or Text ADS We got you covered, We have different advert space waiting for you. Want to know more about our advert placement click HERE