I will introduce you to KuCoin Cloud Mining and how you can Mine Bitcoin every day with the feature.
Don't worry KuCoin is a CEX exchange platform (centralized exchange) which means you need to register to start using the feature, you can read the tutorial HERE to learn how to Sign Up on KuCoin Exchange.
Have you ever heard of Cloud Mining?
Do you know with cloud mining, you can mine bitcoin for yourself daily without having to use the CPU (Central processing unit) of your computer?
So, how does cloud mining works?
How Does Cloud Mining Works?
Once you join the Kucoin Cloud mining, you automatically become a cloud miner.
Cloud miners become participants in a mining pool, where users purchase a certain amount of "hash power." Each participant earns a pro-rata share of the profits in proportion to the amount of hashing power rented.
With a $5,000 cloud mining contract, you could make $700 within one month (and it is literally just checking your stats for a couple of minutes every day).
So your total profit from using a one-year cloud mining contract could amount to $8,400 in Bitcoin.
This means you made a profit of $3,400 in a year! Much right? Imagine Making use of a $10,000 Kucoin cloud mining contract.
Enough details on Cloud mining, let me show you how to get started today.
How to Use KuCoin Cloud Mining to Mine Bitcoin
Visit the Kucoin Sign Up Page to Create an Account.
Once you have successfully created your account.
Click the navigation bar, then click 'Earn' > 'Cloud Mining'.
Select a Product to mine on the Product page.
Once selected, click on Buy Now.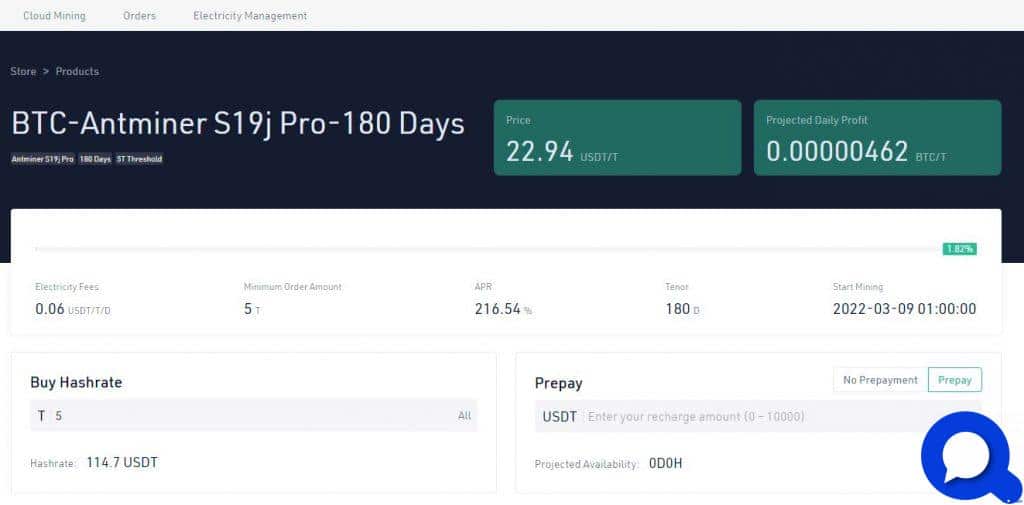 You should see a Screen like this above, this is where you have to input all the information to start/place your order.
The length of the product above is 180 Days.
Enter the hashrate you want to buy and choose if you want to pre-pay the electricity fees, which are calculated on a daily basis.
IMPORTANT NOTE
If you choose to pre-pay, the payment will be settled in USDT, and it will be deducted from your 'Main account'. You can enter the pre-payment value to get a projection of the mining days it will pay for.

If you choose not to pre-pay, the electricity fee will be automatically deducted from your mining income. The amount deducted refers to the coin price on the day of settlement.
Confirm your payment, parameter, projected APY, and the agreement.
Click 'Submit order'.
Click the 'Buy' button
Complete the security verification, and complete the payment.
Confirm the payment on time to ensure a successful purchase.
Now, you can start enjoying making cool income with the Kucoin Cloud mining feature! Please make sure you read the agreement of Kucoin to before you start using the cloud mining platform and also note that you might also lose income due to power outages, mining machine maintenance, natural disasters, and other incidents and guarantees steady income.
Amazing thing about Kucoin's mining is; The KuCoin Cloud Mining Platform adopts higher-end models – S19jpro and M30S++ respectively, which have high mining efficiency and low Break-even price.
When Bitcoin price fluctuates, KuCoin Cloud Mining can provide more stable earnings.
How to Check You KuCoin Cloud Mining Income
Login your Kucoin Account.
Click on Wallet icon and tap on Main Account.
After the purchase period, income will be distributed to your KuCoin Main Account from 04:00 – 10:00 (UTC) the day after mining starts.
FAQs
Can I Get a Refund Once I place an Order for Kucoin Cloud Mining?
The KuCoin Pool Cloud Mining Store supports user refunds. If a force majeure event occurs before mining, users who wish to cancel and refund orders may contact customer service. Refunds are not offered once the mining starts or in other specific circumstances.
How to Create an Account with Kucoin?
If you wish to create an account with Kucoin, Click here to Register.
If you liked this article, then please subscribe to our YouTube Channel or Join our Telegram Channel to stay updated with latest updates from us faster; Telegram Channel or Join our Telegram Group.