Hey Guys! Today I'm going to be introducing another topic "Zuckerberg Metaverse – Why You Should Adopt it Quickly in 2022!". And I guess almost everyone should have heard about the Metaverse by now. The announcement was a very big one and I guess Mack Zuckerberg – The Young Billionaire is trying to outdo himself this time. But if his plan actually works, it's going to have a lot of advantages to Human Technological Development especially in the digital world and I bet it's also going to have some major disadvantages like Power consumption among others…
Metaverse – How Did it Originate?
The word "Metaverse" was coined by Neal Stephenson in his science fiction novel launched in the year, 1992 titled – "Snow Crash," where he imagined lifelike avatars meeting in accurate and realistic building structures and other VR environments.
Since then, a lot of companies and individuals like Mack Zuckerberg and Bill Gates have tried to develop an actual Metaverse – A virtual world with Augmented Reality that features Real-life Avatars, structures and lot's more and can be likened to Neal's Snow Crash and with the continuous expansion of the Metaverse, there's soon going to be a hyper-real alternative realm.
Metaverse – What Does it Mean?
The Metaverse is an idea of a sustained, web-based, 3D multiverse that combines various virtual spaces. Consider it a futuristic implementation of the internet. Its users will be able to collaborate, game, meet and interact socially in these 3D environments thanks to the Metaverse. The Metaverse does not yet exist in its entirety, however, some platforms like Minecraft, Roblox and Fortnite already consist of elements from the Metaverse.
Metaverse, Cryptocurrency and NFT's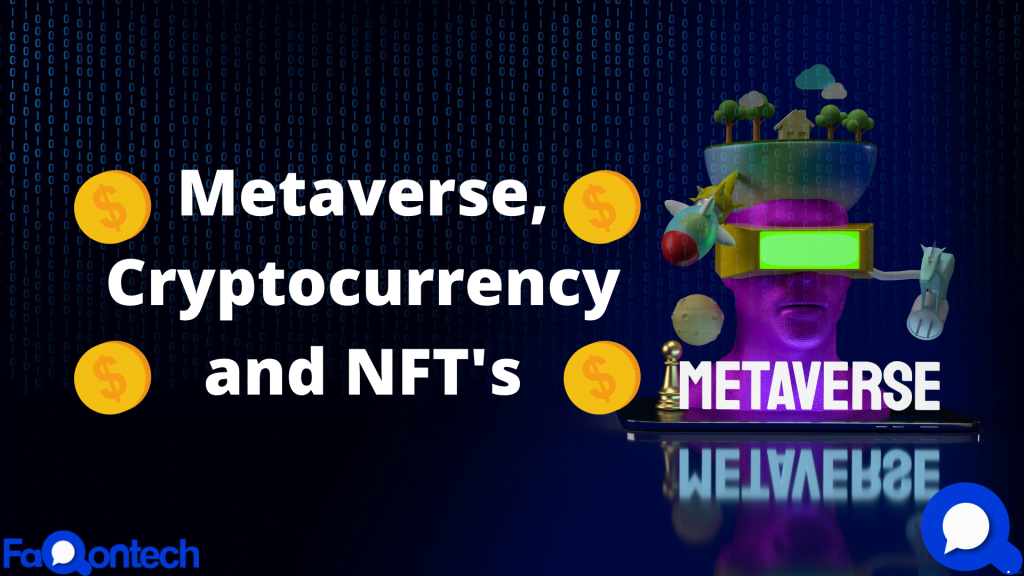 Because of NFTs, users can now have total control over digital assets within the Metaverse. Blockchain technology offers incorruptible proof of ownership, which is the foundation of these digital environments. For example, if you purchased a large amount of property in Decentraland, the Metaverse will give you proof of validation in form of NFTs, which the blockchain would guarantee. NFTs are also useful in the Metaverse for constructing unique environments and improving the digital community.
Read more on NFT's – Non-Fungible Tokens (NFTs) – An Easy Beginners Guide 2022 – Faqontech
The Metaverse's money is cryptocurrencies, and then each Metaverse will have its own collection of coins. They can be used to pay for anything, including NFTs, simulated real estate, animated characters, and lots more.
Cryptocurrencies bridge the gap between the virtual and physical worlds. They enable us to determine the monetary value of digital funds as well as their profits over time. Because of the liquidity of cryptocurrency on exchanges, investors can profit by marketing coins and NFTs instantly to buyers.
Top 10 Metaverse Coins Ranked By Market Capitalization
Decentraland – $4,079,615,001
Axie Infinity – $3,515,153,890
The Sandbox – $3,462,585,681
Enjin Coin – $1,606,144,065
Render Token – $533,160,889
DeFi Kingdoms – $439,017,226
Illuvium – $392,206,444
UFO Gaming – $391,907,615
Radio Caca – $379,632,798
Vulcan Forged – $315,138,660
Note: This list is updated on a daily schedule and the rankings will change at intervals. So, keep checking this list to stay updated on the top 10 Metaverse coins daily.
Read more on Market Capitalization – What is Market Capitalization and Why is it Important to the Cryptocurrency Community? – Faqontech
Metaverse – When will it Launch?
Mark Zuckerberg estimates that the unique parts of the Metaverse will take five to ten years to become mainstream. However, elements of the Metaverse do exist right now. Hyper broadband speeds, VR headsets, and consistent always-on online environments are already available, though not to everyone.
Conclusion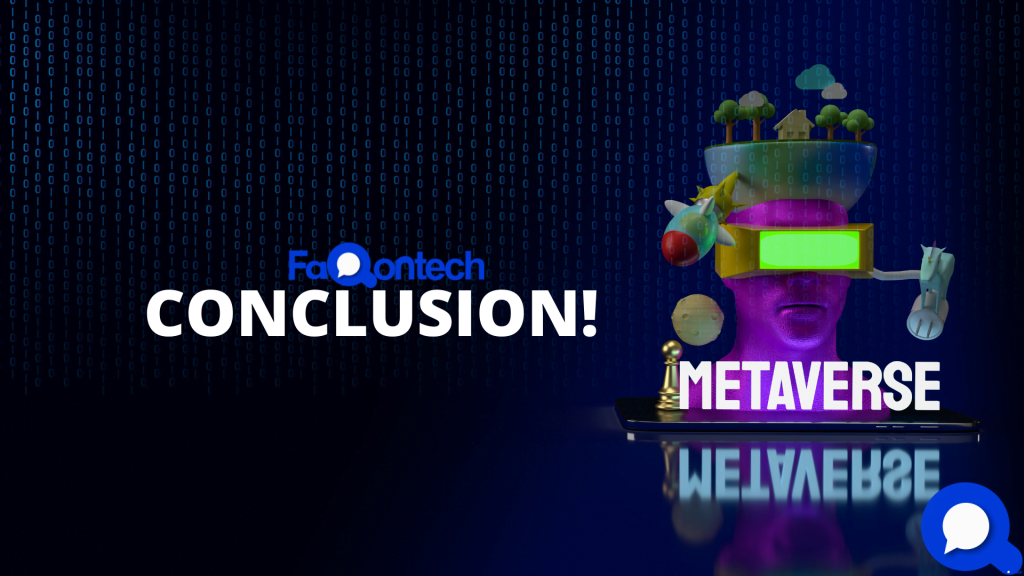 While the Metaverse is still in its infant stage, several firms are already playing in the digital sphere. The Metaverse represents a huge opportunity for cryptocurrency. It has the ability to transform the way people socialize, watch events, connect with companies, study, and exchange digital assets. As the metaverse's means of trade, Cryptocurrency has become more widespread in terms of capability and as a digital asset.
Did you enjoy your read on our article (Zuckerberg Metaverse – Why You Should Adopt it Quickly in 2022?) Well, we certainly hope you did. If you didn't you can drop your comments on how we can improve our services on our website using the comment section below. If you have any questions regarding the points featured in this article or the Metaverse in General, you can also drop them in the comment section below. I'll be happy to receive them. Thanks for reading!
If you liked this article, then please subscribe to our YouTube Channel or Join our Telegram Channel to stay updated with latest updates from us faster; Telegram Channel or Join our Telegram Group.