Do you have a startup you are working on in Nigeria? Well, do you know registering your startup plays a vital role and also boosts the company's trustworthy rate?
In order to get a startup registered in Nigeria, it's important to note that the CAC was set up by the Companies and Allied Matter Act as a body to help owners register a startup in Nigeria.
The CAC portal has served so many companies and as a startup, you can also get yours registered easily.
This article will show you how to get started in Registering a Startup in Nigeria, on Oct 19, 2022, the Nigerian president signed the Nigerian Startup Bill which will help drive the tech ecosystem in the country.
In addition to the law, the Nigeria Startup bill will be known as Nigeria Startup Act 2022. More on the Bill can be read here.
Let's get started with how to register a startup in Nigeria. At the end of this article, you should be able to register any startup easily.
To Register a startup in Nigeria provides a person with two registration options; Register using the CAC Portal online or Register using an accredited agent. An accredited agent can be a Lawyer, Chartered Accountant, or Chartered Secretary.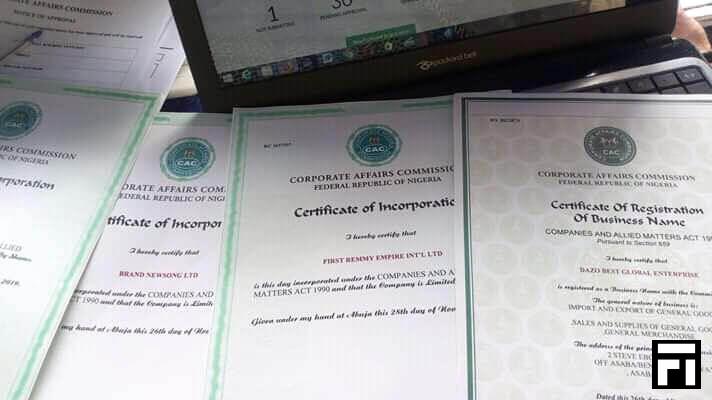 Accredited agents can be found on Social media, browsing the internet, and in locations near you.
Also Check Out: How to Start a Fintech Company in Nigeria
This article will focus more on registering using the CAC Portal, the aim is to help you complete the registration yourself.
How to Register a Startup in Nigeria
Let's get started.
Create an Account with CAC
This is the first step to getting a startup registered in Nigeria. Visit CAC Portal then click on Create an account and fill in the information requested. Once you are done, then log into your dashboard.
Search if Startup Name is Available
Before you proceed, it's important to search for your startup name. This will give you an idea if your startup name is unique or not. If the name of the startup is taken, it's advised that you change it to something unique.
CAC advises every startup name to be unique from each other, Click here to search for availability.
Reserve Startup Name
This is the second important step to registering a startup in Nigeria as it requires reserving the startup name first before filling in the company information. In order to get it done, you need to visit the reservation page on the CAC dashboard.
Include any necessary information, such as your company type, a potential company name, and your goals. After you have completed filling out each column with the appropriate information, you must make a 500 Naira payment. Within 24 hours, you will receive an acceptance notice with a name availability code if the company name reservation is successful.
CAC team function only during working hours, it's to submit your application early in order to get a quick reply before the day runs out.
Register a Startup in Nigeria with CAC
Once your startup name is accepted the company registration should start immediately so as to quickly get approved from CAC.
Now, click on the "New company registration" button and enter your availability code. It will take a few seconds to process and load the necessary important information to help you get your startup registered.
Please it's important to fill in the information correctly, if you input any wrong information it will be marked as an issue when the team reviews your submission for approval.
Entity Details Page: This includes the company's primary business and description, registration address, contact information (phone, email, and address), and so forth (if different from the registered address). This part should be filled out carefully.
Object of Memorandum Page: The company's goals must be listed and saved separately, not all at once. It is best to keep the object clause focused on the primary business that the company is now pursuing rather than including a wide range of potential future business ventures.
Articles of Association Page: The default Articles of Association are already present in the CAC portal and can be adopted or modified for the company's needs. A witness to the Memorandum and Articles should have their names and other information entered. Note that subscribers are not permitted to serve as witnesses.
Directors Page: This page needs the directors' information, which should be processed one at a time and correctly stored.
Secretary Page: This page, which relates to the company secretary, should be filled up similarly to the Directors page above.
Statement of Issued Capital Page: This has to do with a company's required minimum share capital in order to be registered. To prevent a registration application from being delayed or being questioned, anyone looking to create a company in Nigeria should be aware of the minimum share capital requirements.
Persons with Significant Control (PSC) Page: The "Statement of Issued Capital" page's details of an individual or corporate shareholder holding 5% or more shares in the company are automatically processed by the CAC portal (who are otherwise known as persons with significant control).
Therefore, nothing has to be done on page 7 other than to double-check the PCS's information before moving on to the following page.
Statement of Compliance Page: The company secretary or the individual whose user log-in information was used to process the registration often fills this out.
Document Upload Page: A number of documents must be posted to this page in the designated file types, such as PDF, PNG, or JPEG, as indicated by each upload button.
The documents must include each director's electronic signature, the witness's electronic signature to the Memorandum and Articles of Association, the company secretary's electronic signature, the shareholder's electronic signature, all of the directors' identity cards (which must be combined into a single PDF document), any resident permits, any certificates of proficiency, and any certificates of corporate shareholders if any.
Preview Page: The applicant can preview all of the application's details on this page in one sitting. Before moving on to payment, any errors made during processing should be fixed.
Payment Page: Payment is typically made through Remita, which charges N161 in addition to any CAC registration fees and Federal Inland Revenue Service stamp duty (FIRS).
The application changes from being in "NOT SUBMITTED" to "PENDING APPROVAL" status once the aforementioned payments (CAC filing fee and Stamp Duty to FIRS) have been made.
Conclusion: How to Register a Startup in Nigeria
If the information is filled in properly, Once your company is approved by CAC your certificate would be available on the dashboard and a copy would be sent to your address. After approval, it shows that your startup can sell out shares to investors.
If you liked this article, then please subscribe to our YouTube Channel or Join our Telegram Channel to stay updated with latest updates from us faster; Telegram Channel or Join our Telegram Group.