Recently, I've developed a liking for writing Product review articles, especially for products that are of interest to me. And, the Oraimo Necklace 3 Lite definitely caught my attention. This Neckband Wireless Earphone is one that is built quite well. From its silicon covering to its Qualcomm BT5.0 chip that ensures stability, and also brings the music much closer to the quality of Hi-Res Audio.
In this article, I'll be highlighting all the features of the Oraimo necklace 3 lite, and at the end of the article, I'll also from a personal perspective be telling you if this product is worth the buy or not! Before we get into the specifications and features, let's take a look at what this product costs on the Market.
How Much is the Oraimo Necklace 3 Lite
The Oraimo Necklace 3 Lite will cost you between 12,000 – 15,000 Naira depending on the retail store you choose to get it from. I recommend getting the product from Certified Oraimo stores near you.
Oraimo Necklace 3: What's in the Box?
The Oraimo Necklace 3 sports the same design as most Oraimo products, the packaging has the same Light Green color with a touch of black and designs of the product on the body. Looking inside the box, the first thing you would see is the Neckband Wireless Earphone itself obviously…
It also comes with a six-page instruction manual that nobody reads. I really like the design of the packaging, it has these deep lines that are traced around the earphone to give it a very neat and clean look.
Below the earphone itself, there is a very short charger in its own compartment and I also like what Oraimo has done with the Charger. I'm not really a fan of very long chargers, I feel like they are just all over the place and make my table or workspace look rough.
Short chargers make my workspace look neater and they have this cute look to them. In the box, there are also some extra earbud tips. So that in case you lose one of your earbud tips, you can use those as a replacement, you can also use them if the one that comes with your Neckband Wireless earphone doesn't fit your ear very well.
Oraimo Necklace 3 Lite Features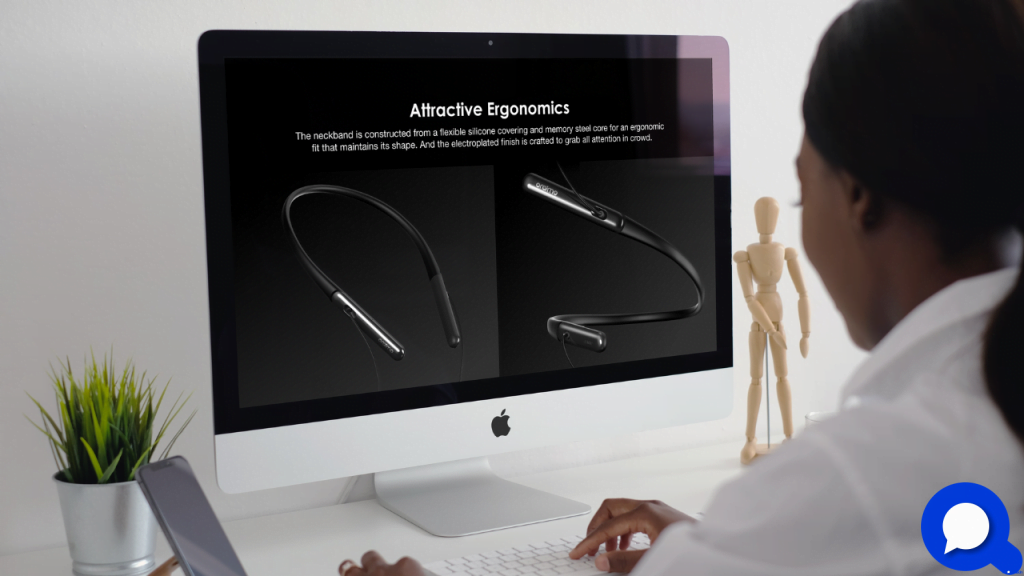 The first feature of the Oraimo Necklace 3 that I'm going to be highlighting is the silicon covering and steel that maintains its shape at all times no matter how much you decide to twist this, it will still keep coming back to its original form for easy wear and quick access.
Each earbud is fitted with a small magnet that lets you wear the earphones around your neck without the risk of losing them.
With the Oraimo Necklace 3, you are looking at a battery capacity of 185 milliamp which is capable of lasting over 220 hours when left on standby, and Twelve and a half hours of continuous playtime it comes with a Qualcomm chip with support for Bluetooth version 5.0 and a 30-meter wireless range. The chip also ensures stability whilst also bringing the music closer to you with the quality of the high-resolution audio.
The Oraimo necklace actually comes with buttons, three of them to be precise. There is a pause and play button which you can also use to answer or end calls and the volume rockers also double as buttons for skipping tracks.
Wrapping Up
You have now come to the end of this article. I hope you enjoyed it! In my conclusion, after looking at the features that the Oraimo Necklace 3 Lite offers, I'll say it's very great and I would actually recommend you to get this but it's not exceptional. If you're looking for a Wireless Earphone that's in the same range as regular ones on the market, then you can get this. But, if you're looking for something more exceptional, you can try out an earphone like the Samsung Level U Bluetooth Headset.
Want to see more articles like this? Well, turn on notifications for this website using the notification bell at the bottom-right corner of your screen if you're using a laptop, and enable notifications using the notification bar at the top of your screen if you use an Android or iOS device.
If you have any questions relating to this article, make sure you drop them in the comment box below. And, if you have anything you think needs to be added to this article that'll make it more helpful to others, please indicate that in the comment section too, I'll make sure to add it in the article and give due credit. Thanks for reading.
If you liked this article, then please subscribe to our YouTube Channel or Join our Telegram Channel to stay updated with latest updates from us faster; Telegram Channel or Join our Telegram Group.