The Oraimo Traveler 4 Pro is designed with a 3D texture that provides users more complete protection for the power bank surface, making it stain and scratch resistant while also providing a pleasant grip.
It Supports up to 20W Fast Charging for both input and output Charging, sports both USB-C and Mico-USB fast input charging features, looks cool, and much more… In this article, I'll be doing a complete review of the Oraimo Traveler 4 Pro.
To read more reviews on Oraimo Products here on FaqonTech, Check out the link below:
FaqonTech's Oraimo Articles – oraimo – Faqontech
Now, let's take a look at the important subheaders under this topic like how much it would cost to get the Oraimo Traveler 4 Pro; What's in the box. The packaging? Its features,? and so on.
How Much is the Oraimo Traveler 4 Pro?
The Oraimo Traveller 4 Pro is priced at 16,000 Nigerian Naira. You can get it at retail stores near you for between 16,500 – 18,000 Naira but no more than that.
What's in the Box?
Like all other Oraimo Products, the Oraimo Traveler 4 Pro is packaged in a portable rectangular box colored light green and black. I really like the way the box the Oraimo Traveller 4 Pro is kept in is compact and it has a really nice and neat look to it.
After taking off the thin nylon covering around the box to prevent scratches, you slide off the top of the box to reveal a nice plastic packaging where all the accessories and the power bank itself is kept in the box.
The Oraimo Traveler 4 Pro has its own nice compartment in the plastic packaging and there are other accessories in the box like a small USB-Type C Charger. If you've been reading my gadget review articles, you'll understand why I love small compact charger cables compared to long ones.
There's also an instructional manual and that's about it.
Oraimo Traveler 4 Pro Features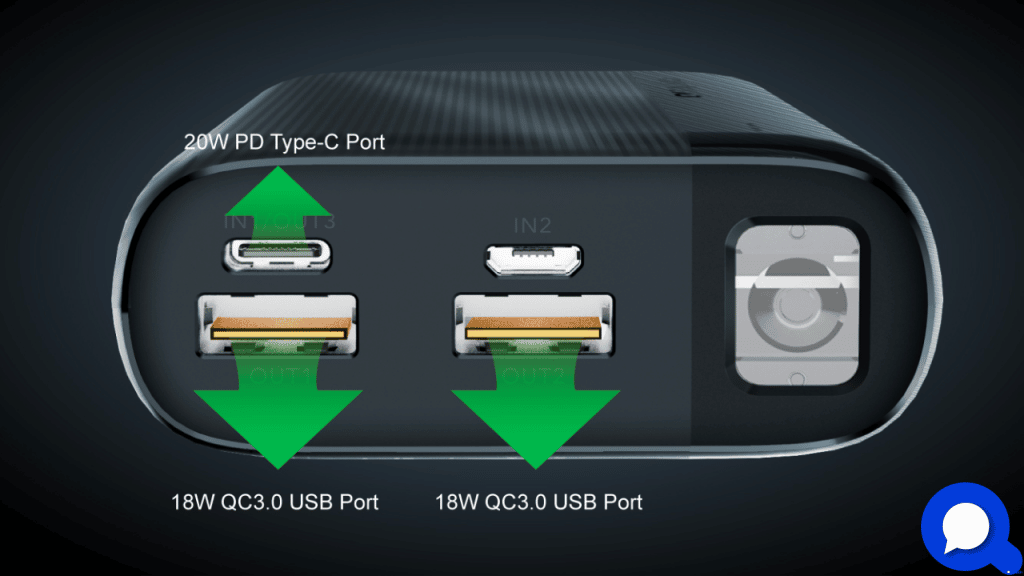 Charging Outputs and Input
The most exceptional feature of the Oraimo Traveller 4 Pro has to be its 20W Type-C Port that has enough power to charge an iPhone 13 or a Samsung Galaxy S22 Ultra to 60% in about 30 minutes and as if that's not enough, it also sports an 18W fast charging and another two USB Outputs.
Battery
It has a 20,000 mAH high-capacity battery and that's sure to last you almost a whole week if you use it to charge your Smartphone at intervals every day. The charging on this power bank does not slow down even when you're charging different devices simultaneously on it. All devices plugged in will charge at the fastest speed the power bank offers.
Extra Feature
The Traveler 4 Pro, which is equipped with a powerful SOS lights alarm, can assist you in the event of an emergency. It may also be set to LED flashlight mode which is very cool.
Smart charging
It not only allows rapid charging of your devices, but it can also shift charging mode automatically once it detects low-current gadgets such as wireless earbuds and smartwatches, preventing device damage.
Wrapping Up!
Want to see more articles like this? Well, turn on notifications for this website using the notification bell at the bottom-right corner of your screen if you're using a laptop, and enable notifications using the notification bar at the top of your screen if you use an Android or iOS device.
If you have any questions relating to this article, make sure you drop them in the comment box below. And, if you have anything you think needs to be added to this article that'll make it more helpful to others, please indicate that in the comment section too, I'll make sure to add it in the article and give due credit. Thanks for reading.
If you liked this article, then please subscribe to our YouTube Channel or Join our Telegram Channel to stay updated with latest updates from us faster; Telegram Channel or Join our Telegram Group.