Hello World! In this article, I'll explain how to buy Cryptocurrency in Nigeria on Bundle Africa's platform despite the Crypto ban now. I mean, it is no news that currently, you cannot purchase Cryptocurrency directly from your bank account to any Crypto wallet without having to use a P2P (Peer-to-Peer) transaction method to get your cryptocurrency.
But, I have been using a platform known as Bundle Africa for a very long time now, and I have to say, it has to be one of the easiest platforms out there that you can use to purchase Cryptocurrency in minutes at the best rates.
Another factor that makes Bundle Africa one of the best Crypto platforms is the fact that they support up to 70+ Cryptocurrencies, and you can buy as little as 510 Naira worth of Cryptocurrency on the platform. This means that Bundle Africa is a platform that cares a lot about small crypto investors and not just the big whales.
The Bundle Africa platform does not just support Crypto transactions in Nigeria. Like the "Africa" in the name implies, the platform is available in 36 countries currently across Africa, and they have plans to expand and go Global very soon.
Other Features
You cannot only perform the task of buying and selling Cryptocurrency on the Bundle platform, NO! There are a ton of other features that makes the app more than just your regular Cryptocurrency platform. The Bundle Africa platform boasts of the following features:
Request: With the activation of this feature, you can see all your contacts who have accounts on the Bundle Africa platform. And then, you can use this feature to request Cryptocurrency or Fiat from any of your contacts, and you will be credited directly to your Bundle account at no charge.
Vault: With this feature, you can save BUSD in your Bundle account and then earn interest on your BUSD over time. BUSD is a token owned by Bundle Africa. Creating a Bundle vault to save BUSD and earn interest comes at no charge at all.
Top Movers: This is a feature on the Bundle Africa application that allows you to see all Cryptocurrencies that have the highest uptrends in real-time. You can use this to know what Cryptocurrency to buy and get high returns.
Trending assets: This is a feature that allows you to see what Cryptocurrency Bundle users are buying the most every day. You can also use this to know what digital assets bundlers currently find appealing, and if you're a beginner, it can guide you on what to purchase.
News: On this tab, Bundle has set aside the latest and most useful Cryptocurrency news that you will find on the Internet. You can use this to keep yourself updated on what is going on in the Cryptocurrency market.
How To Create and Verify an Account on Bundle Africa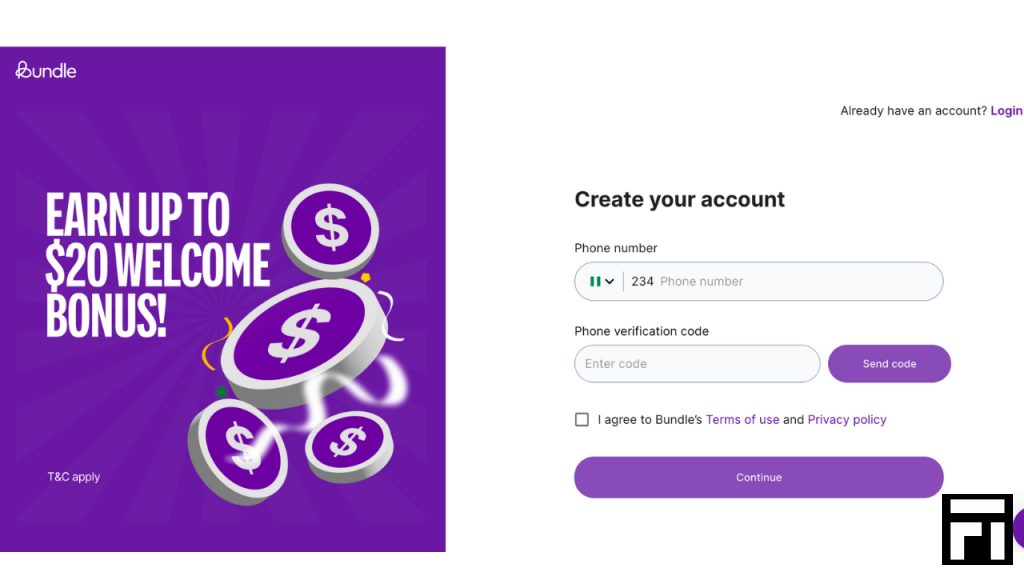 Now, without stalling any longer, let us take a look at how you can create and verify an account on the Bundle Africa platform. To do this, follow the steps below:
Download the Bundle Africa application using this link – https://referral.bundle.africa/2Qbo
After successfully installing the application on your Android device or iOS device, open the application
Input your phone number in the box provided to begin creating a new account on Bundle
Now, a six-digit code will be sent to your phone number. Fill in the six-digit code in the boxes provided and click on "Continue."
Set up a password that you'll use to log into your Bundle account, and then add biometric unlock to your account if your device has support for it
Now, add an Email address to your Bundle account and accept the terms and conditions for signing up for Bundle.
You can now choose to link your Contacts to your Bundle account or skip the steps.
Now, you will be asked to fill out a form containing your unique Bundle username and your already added Email address and mobile number.
Note that Bundle has three account levels. The first is what you just did above, which is merely signing up and creating an account with Bundle. The second is adding your legal name and date of Birth on the Bundle platform, and the third is confirming your Bank Verification Number (BVN) on the Bundle Africa platform and fully validating your identity.
To upgrade and verify your Bundle Africa account, follow the steps below:
On your Bundle account, tap on your profile picture at the top-left corner of your screen
Tap on "Account upgrade."
Type your first and last name exactly how they appear on your Bank account along with your date of birth, and then click on "Continue."
Provide your BVN number and fill it into the blank box provided. Then, tap on "Continue."
A text message will now be sent to the number used to register your BVN in your bank to further confirm that it is you trying to verify your account on Bundle.

That's it! You have now successfully created and verified an account on Bundle.
Now, before you learn how to purchase Cryptocurrency on your Bundle account, you will first have to learn how to fund your Bundle account with cash.
How To Fund Your Bundle Africa Account Via Cashlink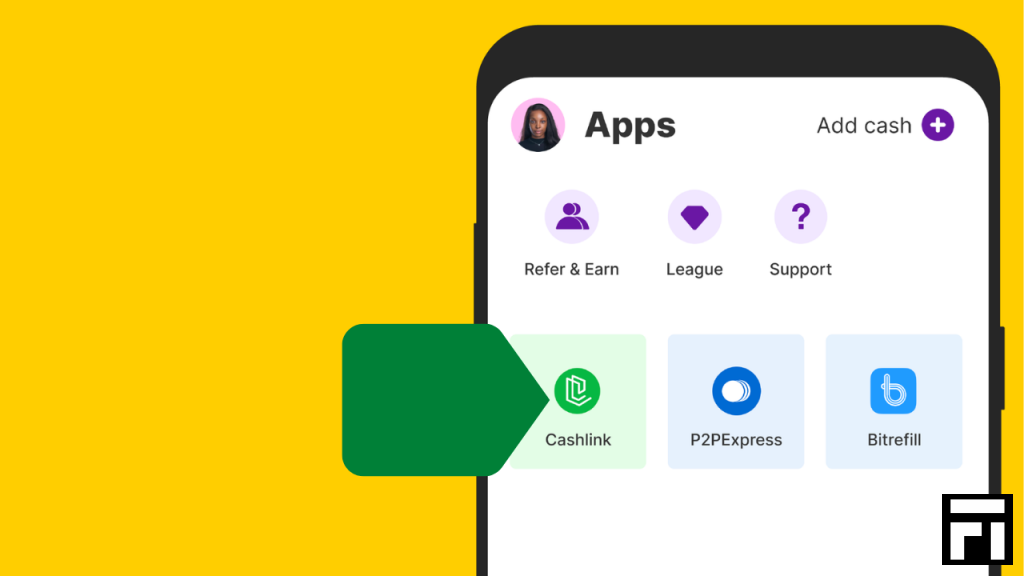 To add funds to your Bundle account, follow the steps below:
Tap on "Add cash" at the top-right corner of your screen
Click on "Fund with Cash"
Now, tap on "Continue," and type in the amount you would like to fund into your Bundle account and click on "Next"
Now, tap on your bank account and then you would be presented with a list of Bundle Cashlink partners. Tap on any of these partners to complete your cash deposit. After the partner accepts your cash request, you will be presented with the partner's account details.
You will now have to open your bank app and send the amount of money you want to fund into your account to the bank account of the Cashlink partner. After doing this, go back to the bundle application and click on the "I have paid" button.
You will now be asked to confirm that you have really sent money to the Bundle Cashlink partner via your bank app. After doing that, you will receive the cash in your Bundle account in a couple of minutes.
Now, let's take a look at the main subheader of this article;
How To Buy Cryptocurrency in Nigeria on Bundle Africa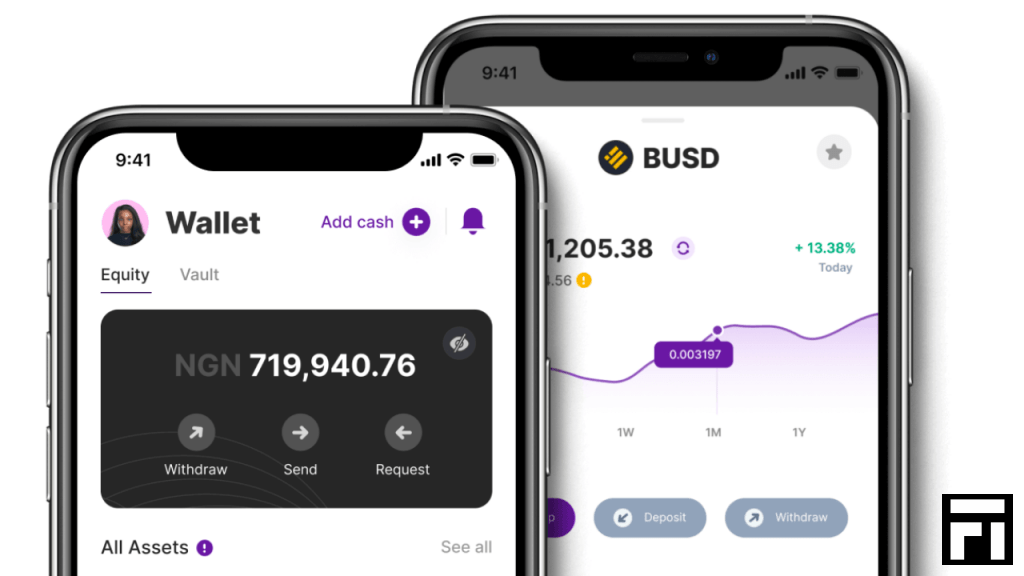 To buy Cryptocurrency in Nigeria on Bundle Africa, follow the steps below:
On the homepage of the Bundle application, tap on "See all." on the "All assets" tab
Now, you can search for what asset you would like to purchase. It could be FTM, BTC, Dogecoin, LTC, Decentraland Mana, or others….
After finding the digital asset, you would like to purchase, tap on the digital asset and then click on the "Buy" icon.
Now tap on "NGN" on the page shown to you, indicating that you would like to purchase this Cryptocurrency using the cash in your Bundle account.
Input the amount of cash you would like to use to purchase whatever digital asset you have clicked on, and then you will also be presented with the amount of that digital asset you will receive. After doing this, tap on "Next."
Confirm your order, and in less than a second, your Cryptocurrency will be sent and will reflect directly in your Bundle dashboard.
Conclusion
I just want to chip in that Bundle Africa has in no regard asked me to write this article, and this article was written just because I use the platform for all my Cryptocurrency transactions, and I had to refer them to others who are looking for a platform that will give you nothing but the best!
Did you find this article (How To Buy Cryptocurrency in Nigeria on Bundle Africa) interesting and insightful? Well, I certainly hope you did. If you have any other questions concerning NFTs that weren't addressed in this article, please leave them in the comment section below.
If you liked this article, then please subscribe to our YouTube Channel or Join our Telegram Channel to stay updated with latest updates from us faster; Telegram Channel or Join our Telegram Group.