Everyone is adapting to investment in our present age and investing in US Stocks in Nigeria is one way to earn passive income faster.
If you are looking for the best way to grow your money with the Naira raising fast then you should start investing in US stocks, this will help you leverage on the raise in Naira/US Dollar.
Don't worry, I will put you through how to start making money when you invest in US Stocks or any other foreign stocks here in Nigeria.
People get confused when they hear about stocks and shares, but in this article, I will explain them better so you can start investing in US Stocks the right way.
See how you can earn N5,000 daily when you use this app, click here to see it.
If you wish to buy and sell stocks in publicly traded companies like Google, Twitter, Apple, Facebook and a lot more, Here is the best guide to putting you through.
Firstly,
Stocks are the fraction you own in a company, which is a proportion of the company's assets and profits equal to how many stocks they own. Stocks are also called "Equities".
Shares are units of stocks, the owner of shares in the company is a shareholder of the company.
Another way to see stocks is they are collections of slices of ownerships from different companies while Shares are more specific to a particular company like "I own shares with Twitter".
Now, you understand the difference so let's move to how to get started with investing in US Stocks in Nigeria.
How to Make Money Investing in US Stocks in Nigeria As a Beginner
Before you can start investing in US Stocks, you need to own a brokerage account that can allow you to have access to own stocks in different companies. For the sake of this article, we are making use of the Trove app, which is a mobile investment application for beginners and professional investors.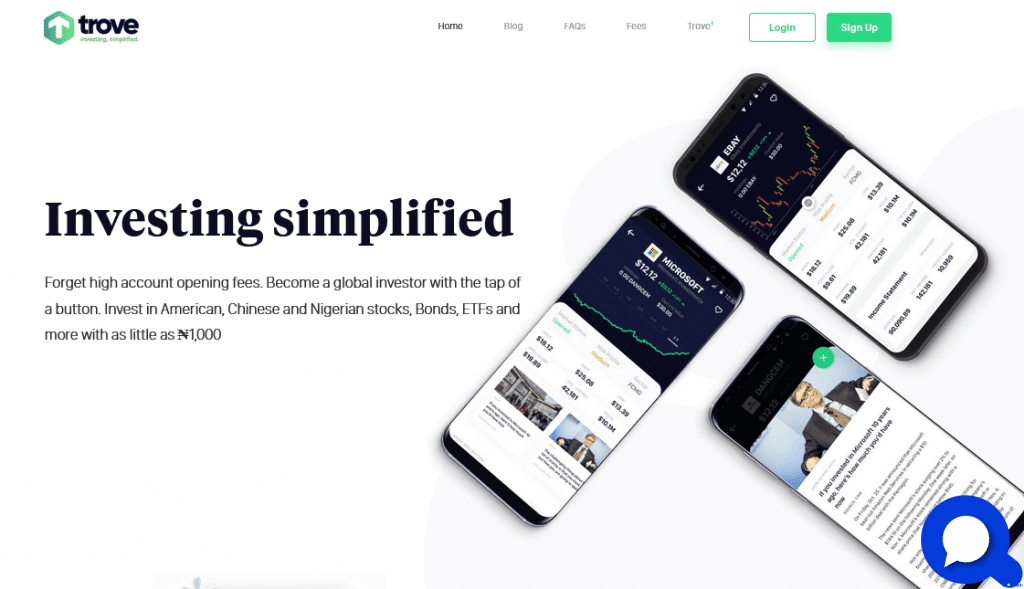 Though, we have other investment apps like Bamboo, Chaka and a lot more.
Create an Account with Trove Finance to Start investing in US Stocks.
Once, you have successfully created an Account.
Make sure you complete the KYC process, this is required before you can own stock.
Once you are verified, you can proceed with creating a US Stock account on Trove so you can start investing in US Stocks.
Once, you have done that.
Remember to fund your US Stocks account with your domiciliary account ( i make use of the UBA DOM Account)
Connect it to your US Stock account on Trove.
Now, you can proceed to the search section on Trove to search for a stock you wish to invest like Twitter.
For Example, when you click the Twitter (Ticker: TWTR) you will be required to buy by either money or by units (remember shares is still unit).
both are suitable depending on what you plan on achieving.
Once, you have successfully purchased the stocks you wish to buy. You can keep track of the portfolio right on the app and also if you wish to check trending news around a particular company, you can do that also when you click the company you invested in.
Note: Investing in Stocks doesn't guarantee you a quick ROI, so remember it's a long time investment.
One amazing part when you use the Trove app is the virtual demo account that allows you to practice before going into a real account, so remember to practice with the demo account before going into a real account.
This will help you check the suitability of the selected stocks and investment strategy with your trading goals and objective without losing any money.
If you found this article (how to make money investing in US stocks in Nigeria) useful remember to share it with your friends, so they can also learn how to invest in foreign stocks.
If you liked this article, then please subscribe to our YouTube Channel or Join our Telegram Channel to stay updated with latest updates from us faster; Telegram Channel or Join our Telegram Group.