Are you looking for a cool-looking Speaker that gives you amazing sound and clear beats, well, the Oraimo SoundFlow is the perfect Wireless Bluetooth Speaker for you. Personally, I've been researching speakers to get for my workspace and It's been very stressful checking lots of products online as well as checking out loads of Physical stores to find the perfect speaker for myself!
And, amidst all that stress and endless searching, that was when I came across the Oraimo SoundFlow. Immediately I laid my eyes on this Speaker, I loved the look, and then when I watched a video of the unboxing and personally checked out and verified all the features, I was truly impressed. Oraimo really outdid themselves on this one.
I'll be getting this speaker very soon and you should too. But, I guess just telling you it's awesome doesn't make it awesome. Well, in this article, you'll be reading for yourself the features of the Oraimo SoundFlow and then you can decide for yourself if it's worth the buy.
Before we get on with the features, let's take a look at what the Oraimo SoundFlow costs on the market today.
How Much is the Oraimo SoundFlow?
The Oraimo SoundFlow is reasonably priced and I personally think with what it offers it's actually worth the price that has been given to it. The Oraimo SoundFlow will cost you between 36000 – 41,000 Naira.
Oraimo SoundFlow Review – Inside the Packaging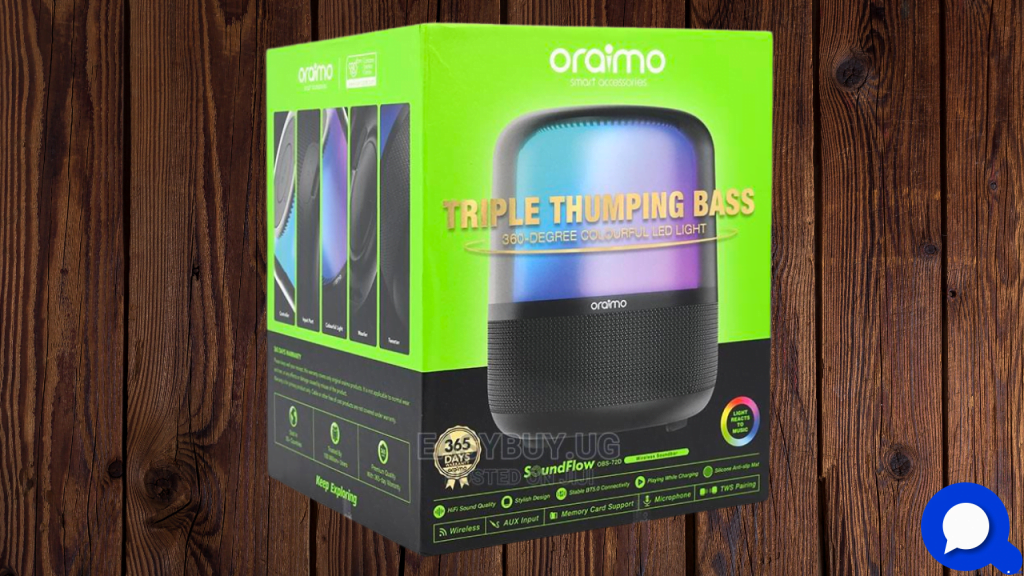 The Oraimo SoundFlow's box sports the same color as all Oraimo product packaging… It has a Light green color with some black as well as designs of the product around the box. You have to slide the outer covering of the box upwards to reveal the inside of the box and this method of packaging is actually cool. It kinda gives me this satisfaction to see the outer covering smoothly and slowly come up to reveal my item inside. lol.
Inside, there is a white nylon covering the Bluetooth Speaker. Apart from the Bluetooth Speaker itself, there is a small compartment housing a USB-C charger and a jack-to-jack cable which you can use to connect your Speaker to your mobile phone or desktop computer.
So, that's all there is to the packaging of the speaker. Let's now get into the features of the Oraimo SoundFlow speaker and then see if it's actually worth the buy.
Oraimo SoundFlow – Features and Specifications
The Oraimo SoundFlow speaker is a little bit big, I mean compared to standard JBL speakers, it should be at least thrice the size of those with the specifications measuring 172*172*195mm. When turned on, the Speaker gives off a nice colorful glow which looks really cool both in low-light and bright environments.
The Oraimo SoundFlow Speaker comes with Bluetooth version 5.0 and it gives you a Bluetooth range of 15 meters which is actually becoming standard on Oraimo's latest products. We can see it on products like the Necklace 3 as well as the Watch and Watch 2 Pro.
The Speaker's output is 50 watts which is very remarkable and the frequency response gives you up to 50 Hertz and 20 KiloHertz. It has a 6000 Milliamp battery which allows a consistent playtime of five to six hours which is also really great.
Twin-pairing is also one of the amazing features of the Oraimo SoundFlow. If you get two of these speakers, you can sync them together and get a really heavenly sound. And, apart from that, having two of these on both ends of your workspace table will definitely give it an extra cool look.
This Speaker gives you Hi-Fi (High Fidelity) sound and very stable connectivity which are the main defining features of a good Speaker.
It features an anti-slip mat that gives your speaker a good grip and prevents it from falling off whatever surface you place it on. The colourful 360 RGB light on the speaker isn't just for decorations, it reacts to whatever song you're playing which makes it even cooler.
Verdict and Conclusion!
10 out of 10 WOULD RECOMMEND!
Seriously, with the features of this speaker, the packaging, the exterior, the USB-C fast charging, standby and usage time, quick wireless connectivity and loads more. I think this speaker is really great and I would definitely recommend that you get this.
Want to see more articles like this? Well, turn on notifications for this website using the notification bell at the bottom-right corner of your screen if you're using a laptop, and enable notifications using the notification bar at the top of your screen if you use an Android or iOS device.
If you have any questions relating to this article, make sure you drop them in the comment box below. And, if you have anything you think needs to be added to this article that'll make it more helpful to others, please indicate that in the comment section too, I'll make sure to add it in the article and give due credit. Thanks for reading.
If you liked this article, then please subscribe to our YouTube Channel or Join our Telegram Channel to stay updated with latest updates from us faster; Telegram Channel or Join our Telegram Group.