In this article, we are going to review the Oraimo wireless keyboard mouse combo. this new product from oraimo might just be the best to help you work smarter at home or in the office.
Oraimo Technology ltd is known for launching smart electronics to help improve people's life according to them and we have seen them launch products like Oraimo watch pro, Oraimo riff, Oraimo headphones and lot more.
Now, we have the Oraimo wireless keyboard mouse review to help you find out if the product is worth buying or if you should skip it.
How Much is the Oraimo Wireless Keyboard Mouse?
The Oraimo Wireless keyboard and mouse combo will cost you about 9,900 Naira. But even with higher retail prices, you will definitely be able to get it below 13,000 Naira.
The wireless keyboard mouse combo model is OF-KK30, currently, it's available for you to purchase on Oraimo website, Jumia and other oraimo outlets near you.
Oraimo Wireless keyboard Mouse Review
Let's get into the Oraimo wireless keyboard and mouse review without wasting much time. First, what's in the box?
The Oraimo wireless keyboard
The Oraimo wireless mouse
USB nano receiver
A user manual
The wireless keyboard is a little might heavy but can be carried around, the keyboard is fatter than expected 0.8inches high and 16.8 inches wide when I measured it.
The keyboard is a full-standard QWEERTY Keyboard with number pads in addition. The keyboard and mouse have a strong wireless connection of even more than 10 meters.
Tho, I'm not a fan of having extra number pads on the keyboard. The OF-KK30 Wireless Keyboard operates at a voltage of just 3V DC and uses two AAA-size batteries.
This put me off from the keyboard, you also need a battery to make use of the keyboard as it's not a rechargeable keyboard.
Currently, i make use of a wireless keyboard and mouse which does the work better when it comes to charging, it would be nice to see oraimo work on a rechargeable version of the keyboard.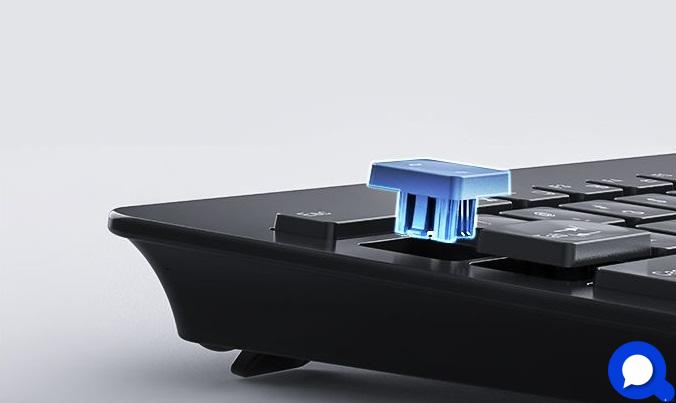 The sad part, the Oraimo keyboard doesn't come with a backlight which is a huge turn-off for me when it comes to working at night when there is a power outage.
Let's talk about the Oraimo wireless mouse.
The OF-KK30 Wireless mouse is an optical mouse that uses LED Light to track movement. The mouse looks so basic as gamers won't enjoy using such a mouse while gaming but it's still worth using.
The mouse has an ergonomic design that helps you balance your hands on it without feeling much pain while using it for a longer duration.
All the best, the worth is still good and not much comment on it for now.
Verdict and Conclusion
Thanks for reading the Oraimo wireless keyboard mouse review, now I would rate the product a 7/10 because of some facts which I will be mentioning below.
The keyboard height as much as I expected something very slim which will allow me to enjoy typing more.
Oraimo ignoring keyboard backlight for the keyboard was a huge turn-off for me, as it would have been 8 if it had a backlight and round keys.
The extra number pads makes the keyboard extra heavy and with that i can't carry it about with it. I must say, i was expecting something cool and better than the inphic v780 keyboard or Logitech k380 keyboard.
Now, is the keyboard worth buying or skipping? Well, the keyboard and mouse combo is a low-budget device compared to the inphic v780 which makes the keyboard lack behind on the little things I mentioned.
If those things are not something i mentioned and are not something you consider when picking a keyboard then it's a good-to-go keyboard.
I expect oraimo to do better and produce something with many features that meet the word "ergonomics".
Thanks for reading this article on "Oraimo wireless keyboard mouse review" do well to leave a comment below about what you think.
If you liked this article, then please subscribe to our YouTube Channel or Join our Telegram Channel to stay updated with latest updates from us faster; Telegram Channel or Join our Telegram Group.